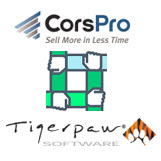 We are proud of our long-standing relationship with Tigerpaw that has spanned nearly a decade.
Reston, Virginia (PRWEB) October 25, 2016
CorsPro today announced enhanced integrations with Tigerpaw Software. For almost 10 years, CorsPro has worked together with Tigerpaw to increase clients' sales productivity using CorsPro's SalesDoc Architect (SDA), the world's most powerful sales documentation platform designed specifically for project-oriented technology integrators.
Complementing Tigerpaw's strong end-to-end business process capabilities, SDA integrates directly into Tigerpaw creating a synergy that results in greater efficiencies and increased productivity. SDA integrates with Tigerpaw's database to pull contact information into a sales quote. It can also access the Tigerpaw pricebook to pull items into a solution to round out a technology integrator's quote. SDA can then generate a variety of fully-customized, graphics-rich customer-facing documents such as proposals and scopes of work.
TIGERPAW AND SDA TOGETHER IN THE CLOUD
Furthering the integration between Tigerpaw and SDA, CorsPro's SDA Cloud component allows SDA end users to look up a Tigerpaw opportunity using the opportunity ID and pull that opportunity's information into an SDA quote. Coming in early 2017, clients will be able to automatically push updated sales opportunity data from SDA directly back to Tigerpaw when users simply save an SDA quote file.
"We are proud of our long-standing relationship with Tigerpaw that has spanned nearly a decade," says Brian Cors, President and CEO of CorsPro. "Our integrations with the Tigerpaw solution – including our relatively new cloud-based component – only strengthen that partnership and allow our clients to transform how they configure, price and propose their solutions."
CorsPro is exhibiting at the Tigerpaw Conference in Omaha, Nebraska, on October 26 and 27. Please stop by booth #21 to see SDA in action. CorsPro is also sponsoring lunch on Thursday, October 27.
For more information on how SDA and Tigerpaw work together, read the CorsPro blog "How Can Your Tigerpaw Work Smarter?" on the CorsPro website.
ABOUT TIGERPAW
Tigerpaw's comprehensive tool empowers more than 40,000 users to manage, automate and integrate business functions including service, accounting, CRM, inventory, field service management, sales, marketing, quoting, inventory, ticketing and customer communication all within one, easy-to-use system. Their award-winning software is designed for B2B service providers who sell, monitor and service software, computers and other equipment. Tigerpaw offers a comprehensive, business automation solution for companies in industries as varied as A/V, IT, telephony, security and POS to medical equipment and ATM machines.
For over 30 years, Tigerpaw Software has designed service management and contact management software that helps businesses increase sales, provide better service, manage projects, bill their customers faster and make better business decisions every day.
ABOUT CORSPRO
CorsPro is the developer of SalesDoc Architect™ (SDA), which transforms how project-oriented technology integrators configure, price, quote (CPQ) and propose their solutions. SDA integrates with leading CRM solutions and manufacturer tools. It enables companies to produce differentiated proposals, statements of work and other sales documents with just a few mouse clicks. For more information about CorsPro, SDA or any of our integrations, please contact our team today!