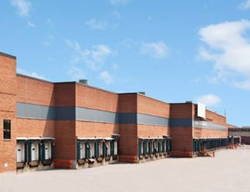 Boston, MA (PRWEB) November 01, 2016
Hackman Capital Partners, LLC and Calare Properties, Inc. announced today the recent sale of MetroWest Industrial Center, a 567,800-square-foot, multi-tenant facility at 1200 State Fair Boulevard in Geddes, New York, a western suburb of Syracuse. The buyer, United Auto Supply, will use the high-bay portion of the facility to house their auto parts distribution business.
Brad Ruppel of CBRE National Partners represented the seller in the transaction, while Robert J. Krawiecki of RJK Real Estate Advisory represented United Auto Supply.
Based in Syracuse and family owned and operated since 1946, United Auto Supply manages 21 locations in New York, Ohio and Pennsylvania with more than 400 employees. The company sells exclusively to independent installers, new car dealers and auto parts stores.
The property, renamed as Ranalli Industrial Park, offers 31-foot clearance heights, extensive loading and trailer storage and a prime location, with frontage at the intersection of I-690 and I-90. The building is adjacent to CSX rail and also offers low-cost municipal power, serviced by the Village of Solvay.
With owner/user United Auto Supply and two other long-term tenants, who will remain in the building, the facility is now 100% occupied.
MetroWest Industrial Center was part of an approximately 11.38-million-square-foot industrial portfolio purchased in 2007 by a joint venture formed by Hackman Capital Partners, Calare Properties and KBS Real Estate Investment Trust. The bulk of that portfolio--23 buildings, totaling 7.4 million square feet—is located in the Northeast.
More About Hackman Capital Partners
Hackman Capital Partners is a privately-held, real-estate investment and operating company that focuses on the acquisition of industrial properties, including complete facilities with industrial equipment. Hackman Capital also targets infill flex buildings, which the company redevelops for creative-office and other commercial uses.
Founded in 1986, Hackman Capital has conducted more than $2 billion in real estate transactions across 41 states—having owned, through affiliated entities, over 400 buildings totaling 35-plus million square feet and 24,000 acres of developable land. Approximately 8 million square feet of that portfolio is currently located in the Northeast.
The company is based in Los Angeles, California with regional offices in Columbus, Ohio and Boston, Massachusetts. It currently employs 82 people and manages approximately 300 major tenant companies nationwide, including Home Depot, Staples, Coca Cola, Lowe's, Sony and Lego.
For more information, visit hackmancapital.com
About Calare Properties
Founded in 2003, Calare is a real estate operator focused on acquiring and managing warehouse, manufacturing, research and flex/office assets primarily in the Northeast. The company's experienced team and fully integrated operating platform provide investment, asset management, leasing and property management expertise to drive performance at all stages of the investment process from acquisition through disposition. Calare has led the acquisition of more than 17 million square feet of properties, representing $800 million in real estate transactions through funds, direct deals and a multi-asset portfolio.
For more information, visit http://www.calare.com.