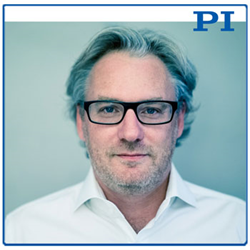 Auburn, MA (PRWEB) October 25, 2016
Motion control and nanopositioning solutions expert PI (Physik Instrumente) has named Stéphane Bussa as Vice President, Sales & Marketing, in Karlsruhe, Germany.
In 2007, Bussa joined PI France SAS in Paris as Managing Director and was promoted, in 2012, to Président / CEO PI France SAS, Paris / Aix en Provence, the title he most recently held. "With Stéphane Bussa, we have found a very successful and experienced sales expert and we are happy that someone within the PI Group takes this great career opportunity," said Dr. Karl Spanner, President and CEO of the PI Group.
Bussa's focus is on the customer. "Given the broad bandwidth of precision motion technologies covered by the PI group, including magnetic direct-drives, piezoceramic motors, flexure drives and air bearing based solutions, it is important to keep an open mind and put the customer and his project at the center of our attention. Once the application is fully understood, the best technology is selected."
Prior to his career with PI, Bussa held director and high level sales positions with Keithley/Tektronix, Alcatel Optronics, and in the Thales Group. Bussa has a Masters in Opto-Electronic/Optronics Engineering from Polytech Paris-Sud School of Engineering, France.
Bussa plans to fully integrate his family and himself into the German culture, which includes relocating with his family to Karlsruhe and learning the German language.
PI congratulates Stephane Bussa!
Watch the Newest PI Motion Technologies Explained
Find the Solution to Your Application
PI (Physik Instrumente) L.P. l 16 Albert Street l Auburn, MA 01501 l http://www.pi-usa.us l info(at)pi-usa(dot)us
USA / Canada
East (508) 832-3456
Midwest (508) 832-3456
West (949) 679-9191 (LA Area & Mexico), (408) 533-0973 (Silicon Valley/Bay Area)
About PI
PI is a leading manufacturer of precision motion control equipment, piezo motors, air bearing stages and hexapod parallel-kinematics for semiconductor applications, photonics, bio-nano-technology and medical engineering. PI has been developing and manufacturing standard & custom precision products with piezoceramic and electromagnetic drives for 4 decades. The company has been ISO 9001 certified since 1994 and provides innovative, high-quality solutions for OEM and research. PI is present worldwide with eleven subsidiaries, R&D / engineering on 3 continents and total staff of 950.