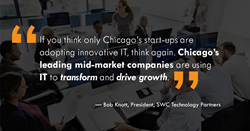 Oak Brook, IL (PRWEB) October 26, 2016
Chicago's mid-market business leaders are optimistic about the future (77%) and are increasing information technology (IT) budgets (68%) to drive growth, according to the results of a new survey of more than 780 Chicago-based C-suite and technology executives. Companies across more than 20 Chicago industries are embracing innovative technologies, including cloud adoption (77%) and data-based decision-making (a #1 priority), to compete in 2016 and beyond.
"If you think only Chicago's start-up businesses are adopting innovative IT, think again," said Bob Knott, President, SWC Technology Partners, a Chicago-based provider of IT solutions that lead the survey. "Chicago's leading mid-market companies are using IT to successfully transform the way they do business and drive growth."
Today's technology services and solutions are providing mid-market businesses the efficiency, agility and innovation they need to compete on a global scale – with companies of all sizes.
"We recognized that the world around us was changing, and our options were to lead, follow or ignore change. Two of those three options were death spirals," said Ed Holland, CEO of M. Holland, a 66-year-old, family-owned, Northbrook, Ill.-based plastic resin distributor. "We have committed to using technology as a driver of innovation, and it has contributed to double-digit growth in a highly competitive industry that follows gross domestic product growth." M. Holland plans to hire 25 new employees in the coming year, including 15 in Northbrook.
"Technology has been a real game-changer for us," said Fred Dingraudo, COO, Batory Foods, a family-owned national ingredient distributor founded in 1979 and based out of Des Plaines, Ill. "Being on the leading edge of technology has enabled us to stay far ahead of the regulatory curve, increase our distribution, and improve quality and customer service—all of which has enabled exponential growth." Soon, Batory will open a new line of business in Wilmington, Ill., which will bring more than 50 new jobs to Chicago.
To learn more about how Chicago companies are leveraging technology to drive growth, download 2016 Mid-Market IT Report, based on survey results and augmented by SWC's experience with more than 350 mid-size companies.
The report describes four common characteristics among companies who successfully leverage technology to drive value: 1) They ensure IT executives have a seat at the leadership table; 2) They migrate to the cloud for agility, scale and economics; 3) They make data-based decisions about growth; and 4) They realize they cannot afford to build IT teams that provide the breadth of expertise required today.
About SWC Technology Partners
Founded more than 35 years ago, SWC Technology Partners is based in Oak Brook, Illinois and is dedicated to helping Midwest organizations leverage IT solutions to increase efficiency, agility and innovation throughout every layer of business. We work with more than 350 companies every year to implement solutions that match the needs of mid-market organizations, including Cloud Computing, Managed Services, Data Analytics and Business Intelligence, End-User Enablement, Infrastructure Solutions, Software Solutions and Digital Marketing. For more information, visit http://www.swc.com.