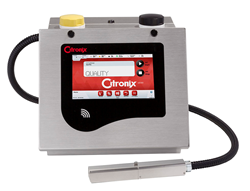 DALLAS / FT WORTH, TX (PRWEB) October 25, 2016
ID Technology powered by Pro Mach, a leading provider of labeling, coding and marking solutions, has announced the availability of the latest update to the ciSeries range of continuous inkjet (CIJ) printers from Citronix – the ci5000 Series. The Citronix ci5000 Series printers will debut at Pack Expo. (ID Technology Pack Expo Booth #S-3707)
ID Technology is the exclusive provider of Citronix printers in the United States. Building upon the success of the previous ciSeries machines, this next generation model offers high-speed, small character inkjet printing capabilities. The model series includes the ci5200, ci5300, ci5500 and ci5650 models.
Features and Benefits
Citronix printers are well known for being robust, easy to use and simple to maintain, and the new product line builds on this legacy.
One of the greatest enhancements made to the new ciSeries is the large 1024x600, 24-bit color, 10.1" capacitive touchscreen display. This touchscreen is built for industrial environments with abuse resistant tempered glass that protects against scratches, shatters, and solvents. In addition to being durable, the ciSeries continues to be the most user-friendly CIJ printer in the industry, providing an intuitive, clutter free, point and tap, quick to navigate GUI.
Another step forward in its design is the introduction of ciEasyServ — a quick, easy, no mess/no fuss, tool-free service module. It combines all of the serviceable fluid filters into one self-enclosed service module, and it can be replaced in less than one minute. This allows for technician-free filter changes and an increased service interval from 6000h to 8000h.
Like previous ciSeries generation models, the new ci5000 Series remains a single PCB system. However, the new model series has upgraded their specifications. The ciSeries now provides RAM from 64Mb to 1Gb, flash from 16Mb to 512Mb and processor from 66Mh to 250Mhz. Additional key new features to highlight include a new quick access online HELP database, standard on board USB and SD Card ports for fast and simple backup/restore functionality, Quick Connects for photocells, encoders, and alarm beacons. Upgrades to the PC Free and Hassle Free firmware provide the benefit of no longer needing to be tied to an Ethernet connection.
The ci5000 Series still boasts an industry leading 30-month warranty with an option to upgrade to a 5-year warranty.
For more information on the ci5000 Series or any of ID Technology's other labeling, coding and marking solutions, call 888-438-3242 and visit http://www.idtechnology.com. And, visit ID Technology at Pack Expo Booth #S-3707 to see their newest machine in operation.
About ID Technology
ID Technology designs, manufactures and integrates custom identification systems and is recognized as a leading single-source provider for labeling, coding and marking equipment, expertise, service and supplies. ID Technology is based in Fort Worth, Texas and operates 17 regional offices across the United States and Canada. For more information or to locate one of the ID Technology nationwide sales and service centers, call 888-438-3242 or visit our website at http://www.idtechnology.com.
About Pro Mach
Pro Mach is a leading provider of integrated packaging and processing products and solutions for food, beverage, consumer goods, pharmaceutical, and other diverse companies. Through its brands, Pro Mach provides product packaging and processing equipment, PMMI certified training, installation, parts, and service in Bottling & Capping, Primary Packaging, Flexible Packaging, Material Handling, Identification & Tracking, and End-of-Line Packaging.
Pro Mach has a diverse customer base, from Fortune 500 companies to smaller, privately-held businesses worldwide, which depend on reliable, flexible, technologically advanced equipment and integrated solution sets. Pro Mach is headquartered near Cincinnati, Ohio, with manufacturing facilities and offices throughout the United States, Canada, and Europe. For more information about Pro Mach, visit http://www.ProMachInc.com.