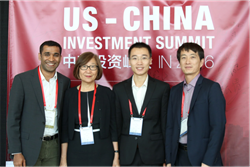 Chinese buyers are taking over 23% of the global merger and acquisitions. We've never seen such beneficial period in Chinese real estate, which has been booming since 2004.
New York, NY (PRWEB) November 05, 2016
"We've never seen such an advantageous position for Chinese investors," said Bril Wang, President of the CPC. "Chinese buyers are taking over 23% of the global M&A. Industries that just became stable in the US are still emerging in China."
"The window of opportunities is still open, the question is whether and when it will close," said Marcus Cole, professor of Stanford Law School. Forty five investor professionals joined panel discussions, fireside chats on topics of high return investment areas and risk control, future investment trends, and collaborative investment opportunities between the U.S. and China. In terms of highlights from the discussions – Carmen Chang from NEA, one of the most influential venture backers of Uber, shared her insider opinion of the Didi and Uber China merger. James Huang from KPCB looks ahead to further developments in the healthcare industry and the future of China-US cooperation in this field. Patrick Eggen from Qualcomm Ventures, Paulo Pereira from GE, and Tim Merel from Digi-Capital, also vigorously discussed topics including artificial intelligence (AI), virtual-enhanced hybrid reality (VR / AR / MR) and robotics. David Chao, cofounder of DCM predicts a strong relationship between investment trends and demographic distribution.
Separately, famous Chinese angel investor Bob Xu gave an opening speech on "The fourth Startup Wave" along with Yihang Yang, Consulate General of the People's Republic of China in San Francisco, who discussed cross border investment growth between US and China; Letitia Chow, representative of Stanford FARM and Bril Wang, president of the CPC. Hans Tung from GGV Capital, Jonathan Qiu from Sky9 and Yong Liu from WI Harper shared their experience on investing in China during the past decade, including on e-commerce, mobile, O2O, fintech and AI.
On the second day, Cameron Teitelman from Stanford StartX and Minglan Wang from Zhongguancun Development Group led a discussion on incubator difference between US and China. The conference also included enterprise investment, consumer investment and investment innovation discussions with industry experts like Aymerik Renard from Sandisk Ventures, Zhang Qian from ChinaAMC Fund, Sanjit Singh Dang from Intel Capital, Rashmi Gopinath from Microsoft Ventures, Robert Neivert from 500 Startups, Michael Cohen from SAIC, Michael Daugherty from AngelList, Ran Wang from Qihoo 360 and so on.
"State-owned enterprises and public listed companies in China are taking advantage of the current exchange rate, allocating high-quality assets overseas and leveraging domestic growth based on China's huge market," added Bril Wang, President of the CPC "It makes good sense since in 2016, currency issuance in China is expected to be 13%, and by the end of the year, China's total money supply (M2) will exceed the sum of the U.S. and the EU, reaching 23 trillion US dollars (calculated with current exchange rate). However, the SDR weight of RMB is 10.9% compare to USD 41.7% and EUR 30.9% starting Oct 2016. Current foreign exchange reserve of China is only $3.2 trillion USD. There aren't enough recognized funds available for Chinese buyers. We do see, however, this condition will change in the long run."
About Cardinal Pitch Club (CPC)
Cardinal Pitch Club (CPC) founded by Stanford affiliates in April, 2015, devotes to connecting our network startups with some of the Bay Area's best recognized VCs. With growing requests from Chinese capital, CPC also helps our startups with exit opportunities like cross border M&A, share acquisition of Pre-IPO companies, e.g. Uber, Airbnb etc.