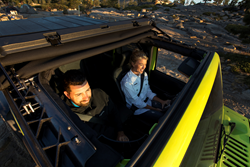 Webasto is a world leader in the manufacturing of vehicle roof and comfort systems and produces millions of products for passenger cars, heavy-duty on- and off-road vehicles, as well as watercraft. – Mark Denny
FENTON, Mich. (PRWEB) November 01, 2016
Webasto Thermo & Comfort North America, a global tier-one automotive and aftermarket equipment manufacturer with more than 80 years of open-air vehicle accessory engineering, will introduce four new aftermarket products for the Jeep Wrangler and a new concept prototype soft top replacement solution, in booth 12927 at the 2016 SEMA Show in Las Vegas, Nevada. The new products can each be purchased separately and all bring enhanced functionality, giving the adventurous more reasons to explore and discover the outdoors.
ThrowBack
Webasto's new ThrowBack one-piece folding fabric roof for the Jeep Wrangler has a patented, rivetless design and features unique fabric folding, fabric retention and linkage technology that gives owners unparalleled open-air exposure.
The ThrowBack's fit and finish are impeccable, with a molded header design and flush-mount rear connections to the factory hardtop that seal using the Freedom Panel's original attachment points. Testing and evaluation standards exceed water intrusion and OE cycle tests. The ThrowBack has been off-road trail tested for more than three years on the Rubicon, in Moab, and trails throughout the USA.
"Webasto's ThrowBack fabric roof was engineered specifically to appeal to those who love the Jeep Wrangler and the freedom it provides," Mark Denny, president and CEO of Webasto Thermo & Comfort North America, said. "The intelligent, low-profile design of the ThrowBack minimizes wind noise, giving a full open-air experience. With the ThrowBack by Webasto, owners can go anywhere, see anything."
Mounting the ThrowBack is quick and simple, and it is easier to install than the Freedom Panels it replaces, using the Jeep Wrangler's factory tool kit. The ThrowBack shipping box serves a dual purpose and is reusable as a storage box to protect the Freedom Panels during storage.
Fridge Freezer 31
Webasto's new Fridge Freezer 31 is designed for Jeep Wrangler owners who want the convenience of a mobile refrigerator and freezer. Engineered with compact, low profile dimensions and custom handles, Webasto's Fridge Freezer 31 fits securely below the beltline of the Jeep Wrangler. The innovative design is lightweight and still holds 45 12-ounce cans.
The Fridge Freezer 31 is compatible with Webasto's optional Dual Cargo Slide package that allows it to slide out for easy access, without unzipping the soft top. An optional tie-down package is also available, and takes advantage of the Fridge Freezer 31's integrated tie-down attachment points, adding stability during outdoor adventures, particularly those that take the vehicle off road.
The Fridge Freezer 31 features 12/24V DC or 115/230V AC power adapters, three-stage battery protection, ECO or TURBO (Max) mode cooling capabilities and an operating temperature range of 50 to 0 degrees Fahrenheit. With all its advantages, Webasto's Fridge Freezer 31 is destined to be recognized as one of the best mobile fridge freezers on the market.
Dual Cargo Slides
Webasto makes loading and unloading the Jeep Wrangler easy and hassle free with its new Dual Cargo Slides. The slide mounts are sturdy, bolt directly to the base plate and are designed to extend effortlessly, with auto locking positions that offer added stability when handling gear.
Cargo Security Surround
Webasto offers Jeep Wrangler owners enhanced freedom and safety, with the introduction of its new Cargo Security Surround. Webasto's Security Surround can function separately or in conjunction with Webasto's Fridge Freezer 31 and Dual Cargo Slides.
The Security Surround also fastens to the Jeep Wrangler's base plate, keeping valuable cargo protected and out of harm's way. The Cargo Security Surround comes with a convenient removable pass-through door for skis and other cargo needs.
"Webasto is a world leader in the manufacturing of vehicle roof and comfort systems and produces millions of products for passenger cars, heavy-duty on- and off-road vehicles, as well as watercraft," Denny said. "Webasto is committed to the industries it serves and is proud to present new products that support the lifestyle and culture surrounding the Jeep Wrangler."
As of Nov. 1, 2016, the ThrowBack folding fabric roof, Fridge Freezer 31, Dual Cargo Slides and Cargo Security Surround will be available for purchase online at http://www.BuyWebasto.com
About Webasto:
Webasto Group based in Stockdorf near Munich has been a family-owned business ever since the company was founded in 1901. The group operates internationally at over 50 locations (over 30 of these production plants) in the divisions roof and thermo systems. Webasto is one of the top 100 automotive suppliers worldwide. For 2014 the Group realized a sales volume of 2.5 Billion Euros and employs over 10,000 employees. The company's core competencies encompass the development, production and sales of complete roof and convertible systems as well as heating, cooling and ventilation systems for passenger cars, commercial and special vehicles, recreational vehicles and boats. For more information please visit http://www.webasto-group.com
Corporate Contacts
Webasto Thermo & Comfort North America, Inc.
Amanda Kopczyk
Ph. 810-593-6070
E-Mail: amanda(dot)kopczyk(at)webasto(dot)com
ThrowBack and Fridge Freezer 31 are trademarks of Webasto.
Jeep and Jeep Wrangler are trademarks of Fiat Chrysler Automobiles. The use of Jeep and Jeep Wrangler product designations are for reference purposes only.
Neither Webasto nor its products are sponsored or endorsed by Fiat Chrysler Automobiles, and there is nothing else in the use of the Jeep and Jeep Wrangler designations that should lead a reader to believe that there is an association between Webasto and Fiat Chrysler Automobiles.