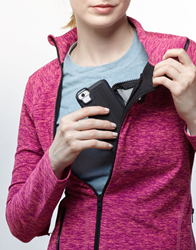 With Captr, you can stream, record and share all of your greatest memories hands-free with the one device that you always have…your smartphone…and do it in style
New York (PRWEB) October 26, 2016
The Captr Smartphone Jacket has taken off on Kickstarter, surpassing $28,000 from backers after quickly soaring past the original campaign goal of $20,000.
Captr co-founder Hesam Meshkat says backers are raving about the sleek look and clever design of the first-ever Smartphone Jacket, saying "the everyday style and added functionality is a big win-win!" He notes that people in various focus groups have lauded the jacket as being surprisingly stylish for a tech-centric jacket, yet uncompromising in its functionality.
"The look of the Captr, whether it's the Activewear Style or Insulated Bomber Style, seems to be just as engaging to consumers as the overall features of the Captr Jacket – from the waterproof smartphone pocket to the smartphone charger inside it," Meshkat said. "Although it is the world's first smartphone bodycam jacket, the style of each jacket is impressive as well."
Meshkat adds that the Captr Bomber Jacket is water-resistant and has a soft fleece interior, while the Activewear Jacket is anti-microbial and comes with a breathable mesh – with each jacket featuring the Patent-Pending Smartphone Pocket, Eyepiece and custom smartphone case. They also come with utility straps for added functionality or so the wearer can mount a GoPro Camera for additional visibility.
"Beyond the classically stylish design, we expect that Captr will see growing support among skateboarders, runners and other athletes who want to capture their exploits – and especially skiers and snowboarders now that winter is just around the corner," Meshkat said.
Specifically designed for all late model iPhones and Android smartphones, Captr jackets have an embedded smartphone charger so the wearer will never miss an opportunity to record a moment that should be captured. The Captr Pocket is water-resistant, featuring a scratch and lint resistant eyepiece Gorilla Glass window to provide a clear and untarnished view for recording.
Each Captr Jacket also comes with a custom smartphone case for precise mounting of different smartphones inside the jacket pocket for hands-free, secure, video recording. The case aligns the smartphone camera lens so that it's flush with the smartphone eyepiece window in the front of the jacket and locked into place.
Smartwatches can also be used to manage apps including cameras, video cameras, Facetime/Video Chats and flashlights for nighttime emergency situations.
"The Captr Jacket offers consumers an affordable and always accessible way to capture any special moment that they don't want to miss," Meshkat said. "With Captr, you can stream, record and share all of your greatest memories hands-free with the one device that you always have…your smartphone…and do it in style. People can capture their experiences using their existing smartphones securely mounted in a perfectly fitted pocket with a built-in gorilla glass lens. Captr jackets are a stylish accessory for any season."
Captr is available at discounted early bird pricing during its crowdfunding campaign. For more information, visit the Captr Campaign Page on Kickstarter.