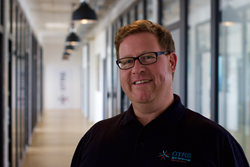 The 's' in OTRS 5s stands for relevant criteria that are frequently mentioned in the use of software tools
Oberursel, Germany (PRWEB UK) 26 October 2016
In only a few days, on November 1, 2016, OTRS 5s will be released. The new patch level release offers features with solutions for everyday work issues.
"The 's' in OTRS 5s stands for relevant criteria that are frequently mentioned in the use of software tools", explains Christopher Kuhn, COO of OTRS AG.
Smooth and Synergistic, for example, are attributes of StayOrganized, with which departmental planning can be carried out smoothly and with an efficient use of employees. The proven standard calendar has now been extended with additional functionalities and offers full control over all appointments on all devices.
Solid and Sophisticated are both terms that apply to the SecurityToolbox feature. It's 100% reliable, and the encryption and decryption of all email communication give you the highest level of security with the most sophisticated technology. And the SecurityToolbox can do even more ...
Jens Bothe, Global Consulting Director at OTRS AG: "OTRS 5s is relevant for all companies that want to encrypt their communication. And with OTRS 6 we'll be developing many of these functions even further and taking them to the next level."
For those interested in the latest IT trends, the word "WebRTC" is already well known, and the name of the EasyConnect feature gives away its essence: "A functionality that is based on a now-recognized standard", according to Manuel Hecht, Vice President of Global Software Development, "is truly state of the art. It enables communication ¬– even via video – with one click, without additional software or media – directly from OTRS!"
It's a feature that offers a wide range of applications, in call centers, customer hotlines and sales departments; wherever personal contact in the customer relationship is a clear source of added value.
Last but not least: Ready2Adopt embodies the principle of "simplified structure", providing substantial support with process templates and web services when it comes to standard tasks or data exchange between different tools.
For more information on OTRS 5s functionalities and its fast deployment possibilities:
https://www.otrs.com/otrs-5s/
About the OTRS Group
OTRS Group is the vendor and world's leading provider of the open-source OTRS Service Management Suite. The company consists of OTRS AG and its five subsidiaries OTRS Inc. (USA), OTRS S.A. de C.V. (Mexico), OTRS Sdn. Bhd. (Malaysia), OTRS Asia Ltd. (Hong Kong) and OTRS Do Brasil Soluções Ltda. (Brazil).
OTRS AG has been listed in the Entry Standard of the Frankfurt Stock Exchange since 2009 (WKN: A0S9R3). The OTRS product suite includes the OTRS Help Desk software and the ITIL® V3-compliant IT Service Management software OTRS::ITSM, as well as the OTRS Business Solution™ and the cloud-based OTRS Business Solution™ Managed, based on the business application. OTRS is available in 37 languages and is used by more than 150,000 companies worldwide to optimize their service with an integrated solution, increase customer satisfaction, and reduce costs. The OTRS Group is the source code owner and it assists companies worldwide through support, consulting and software development. Its service portfolio includes process design, implementation, customization, application support and managed OTRS services. OTRS Business Solution™ and OTRS Business Solution™ Managed are our responses to the market demand for exclusive offer packages for professional use consisting of individual features paired with specially adapted services. Companies and organizations such as Bayer Pharma AG, BSI, Max Planck Institute, Toyota, Huawei, Hapag-Lloyd, Lufthansa, Airbus, IBM, Porsche, Siemens and Banco do Brazil (Bank of Brazil) are among its customers. OTRS is used by more than 40 percent of the DAX 30 companies. Find out more about OTRS and our services at http://www.otrs.com.
Contact:
OTRS AG
Zimmersmühlenweg 11
D-61440 Oberursel
Germany
Tel: +49 (0)6172 681988-26
Fax: +49 (0)9421 56818 18
Email: marketing(at)otrs(dot)com
Internet: http://www.otrs.com