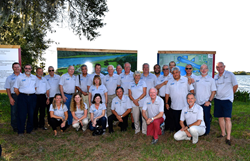 (PRWEB) October 25, 2016
International Water Ski & Wakeboard Federation held their annual Executive Board meeting at the Lake Myrtle Sports Complex in Auburndale this past weekend. The board, which included 29 delegates representing 15 countries, planned their meetings in Auburndale so they could visit the site of the USA Water Ski Foundation's new Water Sports Complex and Training Center, including the Elite Cable Park, which will be operated by Aktion Parks.
The Executive Board discussed the possibilities of hosting major international events at the new water sports complex including the IWWF World Cup which has never been held in the United States.
The weekend activities began with a tour of the Correct Craft factory followed by a tour of the Water Ski Museum & Halls of Fame. Meetings began on Friday morning at the Polk County Sports Marketing Offices. In the afternoon board members toured the Lake Myrtle Sports Park and ended up at the site of the USA Water Ski Foundation's future water sports complex. The tour was followed by a welcome reception held at the Five Star Family Growers farm.
Auburndale Mayor Tim Pospichal, along with City Commissioners Richard Hamman, Bill Sterling and Jim Moody officially welcomed the IWWF board to the City of Auburndale at a private reception and dinner Friday evening which was hosted by the USA Water Ski Foundation, Five Star Family Growers and Polk County Sports Marketing.
IWWF President Kuno Ritschard talked about how the new eight million dollar water sports complex will revolutionize the world of water skiing and wakeboarding around the world and the great impact it will have on Central Florida.