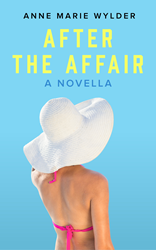 Irvine, California (PRWEB) October 28, 2016
The fresh and enthralling debut novella AFTER THE AFFAIR explores the aftermath of a marriage's destruction by infidelity from the perspective of the wife, the mistress, and the husband. Now available for pre-order on Amazon, it takes the reader into the landscape of modern relationships. Local author Anne Marie Wylder's characters cross race and socioeconomic lines with their flirtations, friendships, and romances but still struggle with gender inequality.
'Sara Decker,' AFTER THE AFFAIR's central character thinks that she has the perfect life until she surprises her husband in bed with their daughter's nanny. Her privileged position in society as a White upper- middle-class wife unravels as a consequence of being an unapologetic high-powered executive that has always striven for success. It is only on remote Whidbey Island that she finds self-discovery and the love of two men: rugged fisherman Tom Sawyer and urban millennial Christian Hansen. For the first time in her life, Sara has the courage to throw out convention and embrace love on her own terms.
'Maria Rodriguez' is the 26-year-old Latina nanny who is catapulted from the role of servant to that of a suburban stepmother, in the Decker household. Her once clandestine relationship with Richard is now fraught with arguments. Richard fights to fit Maria into his notion of a perfect wife. In the end, she will make the ultimate sacrifice so she can hold on to her newfound status in society.
Anne Marie Wylder is available for interviews, book signings, readings and other author events. Connect with Anne Marie on Facebook and Twitter.
AFTER THE AFFAIR is available on Amazon.com and Barnesandnoble.com. 10% of each purchase will benefit Water.org.
Enter to win a signed paperback copy of AFTER THE AFFAIR at Goodreads.com.
Review copies of AFTER THE AFFAIR available upon request.
ABOUT ANNE MARIE WYLDER
Anne Marie Wylder believes travel is chicken soup for the soul. She was born in 1974 in Switzerland and grew up in Pennsylvania. Anne Marie currently resides in Orange County, California with her husband, four-year-old son, and an aging pit bull mix.