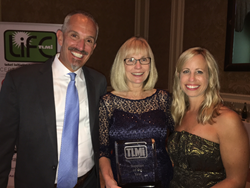 I'm deeply honored to be recognized by TLMI for my contributions
St. Louis, MO (PRWEB) October 27, 2016
Karen Moreland of RotoMetrics was named 2016 Supplier of the Year at the Tag & Label Manufacturers Institute (TLMI) Annual Meeting in Palm Beach, FL on October 18th. The prestigious Supplier of the Year Award recognizes the efforts, contributions, and leadership of key partners to the Tag & Label industry. RotoMetrics is a founding member of the organization.
Moreland has been an active member of TLMI, chairing the 2011 Annual Meeting and co-chairing the 2014 Technical Conference. She has devoted the majority of her career to working with converters, OEMs and industry experts to support RotoMetrics' development of products and services critical to the label, tag, and packaging markets. Her association with TLMI has only enhanced her ability to increase the support suppliers can provide to converters and OEMs as they leverage industry innovation, share it and scale it for more partners to use in their business. Upon receiving the award, Moreland said "I'm deeply honored to be recognized by TLMI for my contributions, but the praise really belongs to the entire RotoMetrics team of craftsman and service advisors who take care of our customers and partners every day. I'm proud of the work I've done and thankful for the support of the RotoMetrics team."
A RotoMetrics employee since 1989, Karen's experience in customer service and international operations management were instrumental in driving RotoMetrics' flexible die product development as well as expanding its global footprint by installing manufacturing and service facilities in Europe and Asia. As VP Global Marketing and Business Development, Karen was a key contributor in the development of the RD300 fully-hardened machine-finished rotary die to meet market demands for superior precision and longevity for medical and industrial applications. Since 2014, Karen has served as a consulting member of RotoMetrics senior executive team, supporting new business development initiatives and strategic marketing activities. During her 25 plus years of service Karen has continued to be actively involved in TLMI initiatives to grow the organization. Bob Spiller, CEO of RotoMetrics, in congratulating Karen said, "We are extremely proud of the contributions Karen has made to the industry, TMLI and RotoMetrics. Karen is an exceptional person who continues to be a thought leader in helping RotoMetrics continue to develop reliable converting solutions, provide unparalleled service support and ensure the fast delivery of our products to the places our customer do business so they can succeed. She is a champion of our customers and partners."
About RotoMetrics: Headquartered in St. Louis, Missouri, with manufacturing and service facilities on 5 continents, RotoMetrics is the worldwide leader in precision rotary tooling for the printing and converting industries, enabling the efficient conversions of substrates into individual labels and parts, through customized cutting solutions to help customers and partners "Unlock the Power of Precision" For additional information, contact RotoMetrics' World Headquarters at +1 800 325 3851 or +1 636 587 3600 or online at http://www.rotometrics.com.