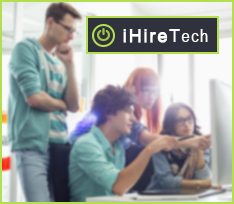 Jacksonville, Florida (PRWEB) October 27, 2016
iHireTech is your premier resource destination for the technology contingent workforce. The company has recently launched its new website, http://www.ihiretech.com, to connect employers with the industry's most talented IT technicians with the specific skills, credentials, and availability that they need.
With over 54 million Americans working freelance as of 2016, iHireTech.com gives companies the power to access their network of over 50,000 qualified technicians as well as provide a platform for technicians to search for employment.
"By 2020, nearly 50 percent of the U.S. workforce will be contractors for hire. One of the largest areas of contracting in the country is in the IT industry," said founder of iHireTech. "Our goal is to attract the most talented technology professionals in the field and provide them with a platform of opportunities to assist in career advancement."
iHireTech.com's new innovative online platform will equally benefit both employers seeking qualified technicians as well as technicians seeking freelance work. The sign up process is simple, and with just a few clicks, IT professionals can efficiently connect with some of the nation's most reputable IT companies.
Traditional staffing agencies act as middlemen, while iHireTech.com facilitates the working relationship between the business and technicians through direct connection. iHireTech.com ensures both parties are satisfied with the workflow by providing 24/7 service and support management, in-depth project planning, status reporting, and managing timely payment for technicians.
Organizations and freelance technicians that leverage iHireTech.com will quickly experience the platforms benefits. For more information please visit online at http://www.iHireTech.com or follow us on Facebook, Twitter, Google+, and LinkedIn.