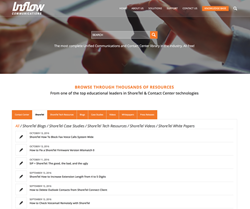 Portland, Ore. (PRWEB) October 26, 2016
Inflow Communications, a Portland based national leader in the Unified Communications and Contact Center technologies, is announcing the launch of a web-based educational portal with thousands of educational assets related to Unified Communications, Contact Center, and ShoreTel business phone systems.
"Premium and world-class support go hand in hand. I believe we've just launched the most robust, comprehensive ShoreTel and Contact Center educational resource in the country. I believe it's even stronger than the manufactures themselves."

Travis Dillard, President and CEO of Inflow Communications
For Inflow, it's not just about the bottom line; they value their customers and want to educate them about the industry.
What started with just a few whitepapers and blogs three years back, is now a massive library where IT executives and business leaders keep themselves up-to-date with the latest Contact Center developments or even get very technical answers to their ShoreTel challenges. (Check out the ShoreTel tech resources tab).
"We turn our customer support questions into blogs and our client's challenges into case studies," says Chris Mitchell, Director of Operations at Inflow Communications.
Inflow believes in sharing their industry knowledge in order to create an uncomplicated world where businesses are educated about the products, software, and applications they are dealing with.
Access to the knowledge base is free to anyone and can be easily spotted on the right hand corner of Inflow's homepage.
On the Contact Center side, users will find tools and tips such as contact center metrics, KPI's, agent engagement, contact center optimization, contact center applications and integration into current business phone systems. This is specifically a challenge for those who are moving to the cloud. Finding a Contact Center that will integrate seamlessly without having to revamp the entire company business phone systems.
On the ShoreTel side, IT teams and businesses can browse through technical resources specific to their ShoreTel system. Inflow is a ShoreTel Platinum Partner, the highest level of partnership awarded in the industry.
In addition to the knowledge based portal, Inflow holds complimentary monthly educational webinars related to ShoreTel and Contact Center. These webinars are LIVE, with a dedicated Q&A section that allows the audience to get their questions answered by industry experts in real time.
Inflow Communications is also a Contact Center influencer at LinkedIn. They manage a group with over 25,000 people and lead valuable discussions for those who are facing contact center challenges or looking to improve their contact center operations. Inflow also has a YouTube channel with a plethora of educational webinars and short-videos.
This is all in the hopes of addressing client challenges and customer needs. As Inflow continues to lead the way in customer support, these educational resources will only further serve the clients and customers they engage with.
Have a topic suggestion for Inflow?
Feel free to email Brendan Polk at bpolk(at)inflowcommunications(dot)com and their industry experts will get back to you.
About Inflow
Founded in 1997, Inflow Communications is a national leader in unified communications and Contact Centers. With close to 100,000 endpoints under Inflow's innovative support plans around the world, their dedication to knowledge, innovation, and unrivaled customer support has landed them in ShoreTel's top 2% in global customer satisfaction, and as a winner of ShoreTel's coveted Circle of Excellence Partners award. For two years in a roll, Inflow is a ShoreTel Platinum Partner, the highest level of partnership, and is their fastest growing partner globally. In addition, Inflow is one of the few Cloud Contact Center providers that offers implementation, ongoing support, and comprehensive consulting and training programs. Inflow service clients across the globe and has local offices in Portland, Seattle, Dallas, Houston, Tampa, L.A. and the Bay Area.