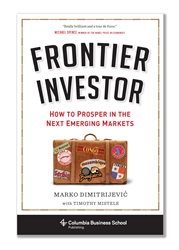 'Really brilliant and a tour de force.' —Michael Spence, winner of the 2001 Nobel Prize in Economics
Miami, FL (PRWEB) October 26, 2016
"Frontier Investor is terrific. This book is great for anyone interested in investing in the next frontier. It is also excellent for those who want to understand the growth potential and human consequences for these many diverse countries and their people. It is really brilliant and a tour de force."
—Michael Spence, winner of the 2001 Nobel Prize in Economics
Where are the next decade's greatest investment opportunities? Marko Dimitrijević, a 35-year investing veteran, argues that they can be found in frontier markets, which account for 71 of the world's 75 fastest-growing economies and 19 percent of the world's GDP. Yet many investors ignore them or are unaware of how to invest in them. Fueled by new access to technology and information, frontier markets are emerging even faster than their predecessors, making them an essential component of a globally diversified portfolio.
In Frontier Investor: How to Prosper in the Next Emerging Markets, Dimitrijević shows through compelling charts, colorful case studies on Argentina, Rwanda, Mongolia, and Croatia among others, and fascinating travel anecdotes that it is not only possible but prudent to invest in these unfamiliar and undervalued options. Dimitrijević, who has visited more than 100 countries, explains how frontier markets such as Nigeria, Panama, and Bangladesh are poised to follow the similar paths of Chinese, Indian, and Russian markets, which were considered exotic two decades ago.
Dimitrijević examines the mega trends in frontier markets including:

The rise of the frontier markets consumer and other demographic-related investment themes, including consumer staples, leisure travel, retail and luxury goods, residential real estate, and healthcare;
Banking and financial services penetration; and
Commodity producers on the verge of capacity booms
He details a strategy for how and where to invest, directly or indirectly, to profit from frontier's growth, the risks—political, macroeconomic, and headline—in these markets, and the prospects for countries beyond the frontier, including Myanmar, Cuba, and even Iran. Carefully researched, and rich with experience and insight, Frontier Investor opens up a whole new world—and worldview—to investors.
Go to http://www.frontierinvestor.com for more information.
Marko Dimitrijević, CFA is the chairman of Volta Global and an investment manager with more than 35 years' experience investing in emerging and frontier markets. He has invested in more than 150 countries and was one of the earliest Western investors in China, Russia, Indonesia, Bangladesh, and Saudi Arabia.
Timothy Mistele, CFA is senior managing director at Volta Global and has over 30 years' experience in international investing, including nineteen years working with Marko Dimitrijević.
FRONTIER INVESTOR: HOW TO PROSPER IN THE NEXT EMERGING MARKETS
BY MARKO DIMITRIJEVIĆ WITH TIMOTHY MISTELE
OCTOBER 2016
272 pages
978-0-231-17044-4 cloth $35.00 / £26.00
978-0-231-54235-7 ebook $34.99 / £26.00
Investing
Columbia Business School Publishing
Contact:
Stefan Prelog
M +1 917 804-7003
E Stefanprelog(at)gmail.com