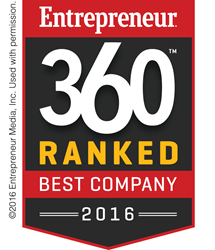 Yorba Linda, Ca (PRWEB) October 25, 2016
LabRoots, the leading scientific social networking website and producer of educational news, virtual events and webinars, was recently recognized as one of the "Best Entrepreneurial Companies in America" by Entrepreneur magazine's Entrepreneur 360™ List, the most comprehensive analysis of private companies in America. Based on this study forged by Entrepreneur, LabRoots is recognized as a well-rounded company that has mastered a balance of impact, innovation, growth and leadership.
"It is an honor to be recognized by Entrepreneur for the entrepreneurial spirit, innovation and growth we have cultivated at LabRoots," said Greg Cruikshank, LabRoots CEO and co-founder. "We are dedicated to connecting the scientific world, leveraging an online features and tools, to develop meaningful collaborations across geographic boundaries and fields of expertise. This listing recognizes the talented team in place that has allowed us to seen excellent growth we've had."
"Our annual evaluation offers a 360-degree analysis of the current private-business landscape," explains Lisa Murray, Chief Insights Officer of Entrepreneur Media, Inc. "Top performers are determined by how well-rounded they are in these four key operative areas. Entrepreneurship is a complex endeavor—this listing recognizes those who have mastered the challenge and are thriving this year."
As an online platform dedicated to the scientific community, LabRoots proudly boasts a highly engaged audience of more than 1.7 million registered members. With its customized virtual event platform, LabRoots has secured strategic partnerships with the industry's cutting edge companies, and has fostered a 70 percent revenue growth in the past two years.
Honorees were identified based on the results from a comprehensive study of independently-owned companies, using a proprietary algorithm and other advanced analytics. The algorithm was built on a balanced scorecard designed to measure four metrics reflecting major pillars of entrepreneurship—innovation, growth, leadership and impact.
To learn more about LabRoots, its platform and virtual events, visit: http://www.LabRoots.com.
For additional details on the Entrepreneur 360 List and the companies recognized, visit: entrepreneur.com/360companies
About LabRoots
LabRoots is the leading scientific social networking website and producer of educational virtual events and webinars. Contributing to the advancement of science through content sharing capabilities, LabRoots is a powerful advocate in amplifying global networks and communities. Founded in 2008, LabRoots emphasizes digital innovation in scientific collaboration and learning, and is a primary source for current scientific news, webinars, virtual conferences, and more. LabRoots has grown into the world's largest series of virtual events within the Life Sciences and Clinical Diagnostics community.
About Entrepreneur Media Inc.
For nearly 40 years, Entrepreneur Media Inc. has been serving the entrepreneurial community providing comprehensive coverage of business and personal success through original content and events. Entrepreneur magazine, Entrepreneur.com, and publishing imprint Entrepreneur Press provide solutions, information, inspiration and education read by millions of entrepreneurs and small business owners worldwide.
To learn more, visit entrepreneur.com.
Follow us on Twitter at @Entrepreneur and like us on Facebook at facebook.com/entmagazine.