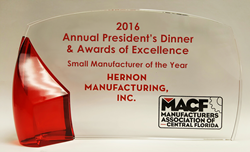 What we really sell, and what customers really want, is a total end to end solution.
Sanford, FL (PRWEB) October 27, 2016
Hernon Manufacturing, maker of adhesives, sealants, dispensing equipment and curing equipment in Sanford Florida has been awarded the Small Manufacturer of the Year Award for 2016. The award was presented by the Manufacturing Association of Central Florida (MACF) at the Annual President's Dinner and Awards of Excellence. The award is given to manufacturers who exemplify excellence and quality in all their manufacturing operations. "Hernon is proud to receive this prestigious award and we are thrilled to be recognized as a leader in the Central Florida manufacturing community" Said Harry Arnon, President and CEO of Hernon Manufacturing before adding "Central Florida is a vibrant and growing manufacturing community and MACF plays a large role in that so we thank them doubly; first for the award and second for helping to shape Central Florida into a business friendly place where growth is possible!"
Hernon Manufacturing moved to Sanford, Florida in 1989 and has seen rapid growth in years since including an average of double digit sales growth for the last four years. At a time when US manufacturing seems to be a thing of the past, this small business is thriving and has boosted exports from 25 countries four years ago to over 50 nations today. When asked how a small manufacturing company in the US can be exhibiting such growth, Harry replied "Hernon offers thousands of adhesive and sealant formulas as well as dispensing equipment and curing lights but these are just components to for our real product. What we really sell, and what customers really want, is a total end to end solution. We have found that when we focus on providing a total solution and anticipating our customer's needs by providing unparalleled access to our engineering teams that the material and equipment orders just keep coming."