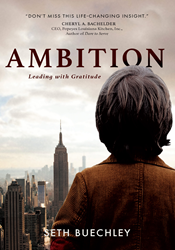 When we set ambitious goals, we will be racked with emotions that come upon us like floods. That's not a sign of weakness, it's a sign of humanity.
(PRWEB) November 15, 2016
Buechley opens his book with acknowledgement of a question we all ask ourselves at one point: What makes us tick? "We are all driven by our dysfunction to some degree," he writes. "Whether trauma, drama, or the struggles of this life, no one gets through unscathed..." He then references his childhood experiences in a commune in Southern Oregon to describe how that rigged system motivated him to achieve greatness; however, in his professional life, Buechley also came to realize that greatness comes at a cost. Ambition is an integral quality for achieving success, but an abundance of ambition leads to a constant state of personal dissatisfaction and lack of gratitude. This discovery led him to write "Ambition," out today, which he describes as a "why-ography" that explores what motivates people of high ambition and what comes with it.
In this book, readers will learn about:

Roots of Ambition
Satisfaction and Expectations
Gratitude Adjustment
Reaching Your Potential
Cheryl A. Bachelder, CEO of Popeyes Louisiana Kitchen, Inc. and Author of "Dare to Serve: How to Drive Superior Results by Serving Others" describes "Ambition" as a challenge for readers to imagine a world where leaders are grateful for not only their jobs, but the opportunity to lead. She writes "...Gratefulness leads us to think of others more often than ourselves – and the rewards fill up our souls in a powerful way. Don't miss this life changing insight."
"Ambition" is available at all major retailers and online starting today. Find more information at http://www.ElevatePub.com.