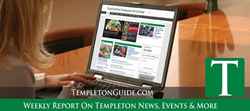 Templeton, CA (PRWEB) October 27, 2016
Templeton Community Guide publisher Scott Brennan this week invited local businesses to become a Site Sponsor of Templeton's leading news source.
"We are offering a new way for businesses and organization to reach locals online, all year round," says Brennan. "It's a great way to advertise in Templeton. Your business or organization can become a Site Sponsor of the Templeton Community Guide starting at only $89 per month."
Benefits of being a Site Sponsor

Online ad that rotates on the Templeton Community Guide home page and on stories
Online ad included in weekly email to hundreds of local subscribers
Free ad design and marketing advise
Site Sponsor rates
1-month site sponsor $149/mo.
3-month site sponsor $119/mo.
12-month site sponsor $89/mo.
Targeted advertising
The Templeton Community Guide online is a great way to target an advertising message to Templeton, CA 93465. The guide's readers are local residents and business owners looking for news, events and announcements about Templeton, Calif.
Excellent visibility
A high volume of inbound website traffic comes from Google and other search engines. With over 1,500 social media followers and hundreds of weekly email subscribers, the Templeton Community Guide has the biggest audience in town. Advertisements are seen on every article on the site and on every kind of device, from desktop computers to smartphones and tablets.
Professional service
The team Access Publishing has been meeting the needs of local businesses for over 20 years. They have experienced marketing consultants and on-staff graphic designers to help with ad campaigns. They can help design an effective online ad.
Great demographics
News readers are a highly desirable demographic profile who includes well educated, higher-income residents who are concentrated in the 18-54 age groups and skew toward female readers.
The Templeton Community Guide is owned and operated by:
Access Publishing
806 9th Street #2D
Paso Robles, CA 93446
(805) 226-9890