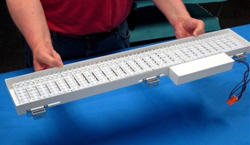 Salem, New Hampshire (PRWEB) October 31, 2016
ClearLight Technology®, a division of American Machine Vision LLC announces its $60,000 in 60 days Kickstarter campaign to fund the certification and final engineering of their low-power, low heat, energy efficient LED retrofit module for fluorescent tube fixtures.
"These retrofit modules can be used in commercial, residential, medical and agricultural applications, and can last 10 years or more," says Brian Sanders, Managing Member and Mechanical Engineer at American Machine Vision, "and, are designed to have a positive global impact by providing significant energy savings and reduced environmental waste."
Each ClearLight Technology 3-lb. lightweight, cool operating 33 watt LED retrofit module will quickly and easily replace 60 to 200 watt fluorescent tubes fixtures. This module fits within any standard 2'x4' fluorescent fixture and provides superior light without heat sinks or cooling fans.
"Our 'keep it simple' engineering strategy has produced a mechanical design that is easy and inexpensive to produce," added Sanders. "The electrical components have been chosen for their quality, ease of use and global safety certifications."
"This crowdfunding project will provide the capital we need to get our new fixture the required electrical and safety certifications for North America & Europe and for Design Light Consortium (DLC) certification for utility rebate qualification," says Fred Wright, Managing Member and Product Designer. "It will also provide funding for the sales and promotion literature we need for both domestic and foreign markets."
Backers of this Kickstarter campaign who pledge $100 or more will receive a ClearLight DIY LED Lighting Kit containing all of the parts necessary to build a real LED light.
Information about the Kickstarter campaign can be found here.
ABOUT CLEARLIGHT TECHNOLOGY®
ClearLight Technology is a division of American Machine Vision LLC, a family-owned R&D engineering firm located in Salem New Hampshire. AMV undertakes projects for companies and individuals who need developmental assistance in Electronic, Optical and Mechanical engineering. Collectively, AMV engineers have over 80 years of experience in these disciplines.