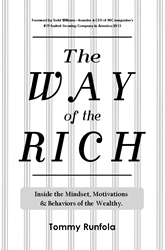 I wrote 'The Way of the Rich' to give people the inspiration, insight and clarity on how to think, act and live like the richest people in the world
Columbus, Ohio (PRWEB) October 25, 2016
In this new book, readers can discover what some of Americas most successful entrepreneurs such as Mark Cuban, Sara Blakely, Bill Gates, Jay Z and millionaires next door have learned. Growing up poor in an 800-sq-ft house in lower middle class Pittsburgh, Tommy always had an interest in becoming wealthy, changing his life, and resetting his financial lifestyle for the rest of his life. Tommy found that being under the guidance of several great millionaire mentors was the key to success as he became a millionaire by age 30. Based on his experiences with rich people past and present, he has written a book, The Way of the Rich.
"I wrote The Way of the Rich to give people the inspiration, insight and clarity on how to think, act and live like the richest people in the world" said Tommy Runfola, Founder and CEO of Tommy Runfola Personal Development. "We have already experienced a tremendous response to the launch of my new book."
People all across America are looking for solutions to achieve more, both financially and in their careers. "This book is very timely and anyone reading it will experience entrepreneurial enlightenment with large increases in money along with it" said Tommy Runfola.
Tommy Runfola is the host of the nationally syndicated radio talk show Makin' It, Co-Founder & President of 21 Productions and Tommy Runfola Personal Development. Tommy's companies are valued at over $100 mil. He is a technology company founder and CEO. He founded and sold one of the largest private school chains in America in 2015. He's an investor and has bought and sold multi-millions worth of businesses. Tommy became a Rags-to-Riches Millionaire by age 30. He received training in the Yale School of Drama's Performance Method and was a 2004-05 National Entrepreneur of the Year nominee. Tommy Runfola Personal Development is the leader in the development, marketing and distribution of self-help books, digital audios, media programs and online university.
Now available on Amazon: 'The Way of the Rich' by Tommy Runfola - Click here to buy.