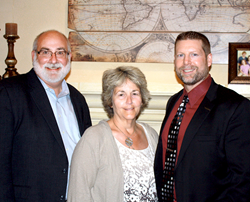 Spokane, Washington (PRWEB) October 26, 2016
Russell Page, CEO of Imprezzio, Inc. and its worldwide subsidiaries, possesses 20 years of software, manufacturing and insurance industry experience.
As a trusted expert in increasing company performance by delivering results via innovative big data, analytics and automation solutions, Page's responsibilities include developing Imprezzio's strategic direction, branding, sales, marketing, operations, product development and overall portfolio performance.
Founded in Spokane in 2004, Imprezzio is the leader in insurance industry specific marketing automation software solutions. Imprezzio and its subsidiaries have grown to a total of nine offices across the United States, Canada, Romania and The Netherlands – and now employ more than 220 full-time employees.
Imprezzio's flagship software as a service (SaaS) product is a platform that automates sales and marketing activities, via big data and machine learning in order to connect carriers and agents to their customers in a meaningful way. Imprezzio has a proven track record of driving quality premium growth by linking powerful technology with strategies that set agents apart from their competition.
"It was fantastic to have Dr. David Arnold and his wife Katherine visit the Imprezzio office," said Page. "I am proud to be a graduate of Eureka college and to show students what opportunities are out there."
"During this visit we discussed the future growth of Eureka College and extending the academic opportunities that are unique to the college to a greater diversity of students across the country. There are very few colleges who have graduated a United States president and that creates a unique relationship between the college and their student body."
Eureka College graduated President Ronald Reagan in 1932. It is also noteworthy that Eureka became the first college in the state to admit men and women on an equal basis in 1855.
Page received his B.S. degree Summa Cum Laude from the Eureka College School of Business and his MBA from the University of Idaho.
"We want to be thought partners with interim President, Dr. Jamel Santa Cruze Bell, by connecting leadership, diversity and a well-rounded liberal arts education to potential students around the country via her new 'Uniquely Eureka' initiative."
Imprezzio, Inc. takes pride in helping clients achieve maximum ROI on sales and marketing investments. From our North American and European offices, we serve customers across the US, Canada and the EU.
Imprezzio's mission is to provide tremendous opportunities and security for our employees, our customers, and our communities by delivering the next generation of high-value business process software, rooted in deep domain expertise. Learn more at http://www.Imprezzio.com.