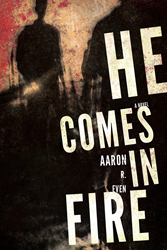 "…a fresh and brilliant re-casting of the suspense novel by one of the South's finest young writers… I read it breathlessly. I loved it." – Davis McCombs, poet and author
Washington, DC (PRWEB) December 02, 2016
Atticus Books has released the highly-anticipated and thrilling literary crime novel "He Comes In Fire" by award-winning novelist Aaron Even.
"He Comes In Fire" is a fictional, investigative composite of a country in flames, a dark and fast-paced crime drama that explores how the search for comprehensible answers and meaning can lead people astray—into false assumptions, accusations, and terrible miscarriages of justice.
In the late 1990s a rash of mysterious arsons swept the Southern United States. For some months the fires (many striking African-American churches in rural communities) made the national news, raising fears of a racist criminal conspiracy. Then slowly they faded from the public eye, with no clear pattern, motive, or responsible group ever detected.
"He Comes In Fire" explores how the search for answers can lead to false accusations and tragic judgment calls. In a town of corrupt preachers, criminals, and lost souls, anyone can make the suspect list.
About the author:
Aaron R. Even is an award-winning novelist and writer for television whose work has appeared on National Geographic, Discovery and Smithsonian Channels. His programs explore a broad range of scientific, historical and contemporary subjects from global volcanism and ancient civilizations to organized crime. His debut novel Bloodroot (Thomas Dunne Books) won the Associated Writing Programs (AWP) Novel Award in 2000.
During his extensive research writing "He Comes In Fire," Aaron gained first-hand knowledge on how and why arsonists strike out against these churches. Aaron is available for media and interview opportunities to discuss his novel and his work.
Visit http://www.HeComesinFire.com to learn more.
Barnes & Noble purchase link
Amazon purchase link