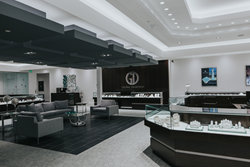 Salt Lake is in need of a diamond powerhouse and we are so excited to be a part of this growing market!
(PRWEB) October 27, 2016
Global Diamonds, a leading diamond and fine jewelry retailer from Florida, is now open at the Fashion Plaza in Murray, Utah. Global Diamonds, owned by Doron Arabov, Yoav Gershoni, and Birko Roland, is one of the nation's largest diamond houses with a multi-million dollar inventory 20 times the size of traditional jewelry stores. Doron Arabov is the owner of Arabov Global Diamonds, a diamond manufacturer headquartered in the diamond exchange in Tel Aviv, Israel, where Global Diamonds sources all of its loose diamonds.
The new store, located at 196 East Winchester Street, will be the first in the Salt Lake City area. It is an expansive 7,000 square feet with a stunning state of the art showroom. The location will have 15 employees and will be operated by General Manager Eyal Boaron.
Birko Roland, renowned diamond expert and one of the company's owners, has found success in Jacksonville, Florida managing the opening of Global Diamonds' first store.
"Salt Lake City is a gemstone of the Midwest, a fast growing area with incredible potential. It has great universities and professional sports teams. A lot of companies move their headquarters here," says Roland. "The people are innovative and are taking the city to the next level. Salt Lake is in need of a diamond powerhouse and we are so excited to be a part of this growing market!"
Global Diamonds specializes in diamonds direct to the customer. Unlike traditional retailers, they source rough diamonds and employ cutting procedures at the company's headquarters in Tel Aviv, Israel. The result is Global Diamonds eliminates middlemen involved in traditional diamond trading and offers an unrivaled selection of diamonds at values not seen in the market.
Global Diamonds boasts one of the nation's largest diamond inventories in every shape, size, color and quality and in every price range. The showroom houses thousands of engagement rings and wedding bands as well as earrings, bracelets, necklaces and colored gemstone collections in sapphires, rubies and emeralds. Global Diamonds also has a large selection of South Sea, Tahitian and saltwater pearls.
The Global Diamonds staff is made up of knowledgeable diamond experts, some of whom are graduate gemologists. The company carries diamonds certified by the top American-based gemstone grading laboratories. It also offers unmatched guarantees, including a nationwide price guarantee.
The best people, the best selection and service – it all leads to the best shopping experience. And the best value anywhere, not only in Salt Lake City, but in America. That's the Global Diamonds promise.
For more information, visit http://globaldiamondsusa.com/salt-lake-city or call (385)-388-4353.