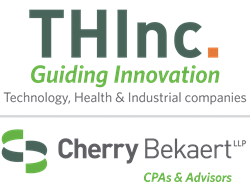 (PRWEB) October 26, 2016
Almost 90 percent of financial executives agree that innovation is more important to their companies now than five years ago, yet only 16 percent believe their companies are "highly successful" at achieving innovation.
These findings are according to a recent survey from CFO Research, in collaboration with nationally recognized CPA and advisory firm Cherry Bekaert LLP ("the Firm"), of more than 160 financial executives and CFOs from middle-market companies in the technology, health, and industrial/manufacturing industries.
The national survey also brings to light the critical role CFOs play in the process of innovation. About half of respondents believe the CEO or business owner is the driving force behind innovation. However, more than half the respondents also say the CFO brings discipline and analytical thinking to the innovation process.
A majority of survey takers said they would like to see CFOs have a larger role in "evaluating and selecting innovation projects to pursue," and more than 40 percent think financial leaders should be involved in "evaluating outcomes and measuring the success of innovation projects."
"Middle-market finance executives understand innovation is critical to financial success and their role can be a key contributor to successful innovation," says Dawn Patrick, CPA, Partner and Industry Leader of THInc, the Firm's technology, health, and industrial practice. "CFOs bring practical, analytical thinking that can often guide an idea forward into reality through process and establishment of quantitative goals and metrics. The role of the finance function in guiding a company's decision-making around innovation should not be underestimated."
See more results from the survey, "Finance Function's Role in Managing Innovation."
About CFO Research
CFO Research is the research group at CFO Publishing LLC, which also produces CFO magazine, CFO.com, and CFO Conferences. For more than 25 years, CFO Publishing has been a trusted source of insight into the business issues that matter most to finance professionals. Since its founding in 2000, CFO Research has been a part of that effort. | cfo.com
About Cherry Bekaert LLP
Ranked among the largest accounting firms in the country, Cherry Bekaert specializes in offering solutions that impact their middle market clients' ability to innovate, grow and succeed.
For more than 65 years, private equity-backed businesses, global corporations, middle market companies, emerging firms and their executives have relied on Cherry Bekaert to guide them forward as their growth advisor. | cbh.com
About THInc
Growth and innovation go hand-in-hand. To achieve and sustain middle market growth, companies within the Technology, Health and Industrial sectors require advisors and accountants who fully comprehend how innovation creates disruption and change that can lead to business risk, uncertainty and new opportunities.
If you are innovating, allow THInc to guide your company in the right direction. THInc is a specialty practice of dedicated professionals serving innovative clients in the Technology, Health and Industrial sectors. | cbh.com/THInc