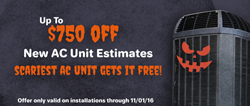 All Year Cooling is looking for the scariest, old air conditioner in town!
Fort Lauderdale, FL (PRWEB) October 26, 2016
All Year Cooling has announced their latest contest for Halloween 2016: they are looking for the oldest and scariest air conditioning unit around. While scheduling an installation or estimate online, they are encouraging customers to upload a photo of their current AC unit for a chance to win a new unit and installation for free.
This contest is open to customers that schedule their installation between now and November 1, 2016. All Year Cooling's president, Tom Smith will be selecting the winner on Monday, November 7, 2016. The winner will be notified and once the new unit is installed, All Year Cooling will post their before and after photos on social media.
In addition to their Scary Unit Contest, All Year Cooling will be giving up to $750 off a customer's AC unit estimate on all new unit installations through November 1, 2016. Many assume that with Fall comes colder weather and that they are less likely to use their air conditioning units. However, this season is the best time for upgrading a unit or making sure it's in tip-top shape. In South Florida, the heat is unpredictable and as Tom Smith says, "Florida is always hot - even in the middle of winter!"
For any customers that are unable to schedule an installation before November 1, 2016, be sure to sign up for All Year Cooling's email list for all the latest deals and promotions.
Established in 1973, All Year Cooling has completed over 150,000 air conditioner installations in South Florida. Their goal is to provide the consumer with the best overall value and service on new air conditioner installations, maintenance, and repairs. As a family-owned business, Tom Smith along with his team makes it their mission to provide quality service and remain a trusted part of the South Florida community.
For more information, you can contact Smith directly at 954-773-8619 or visit their website.