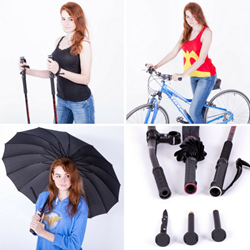 In a bad situation where every second counts, you don't have the luxury to search through your bag or pockets to find something to protect yourself
Orange, CA (PRWEB) October 27, 2016
At Nunchuck Grips, they don't actually make Nunchucks (an ancient martial arts weapon) as their name implies. Instead, they make Outdoor Recreational Products that contain useful hidden Accessories such as a Knife or Pepper Spray stored in the Grips that allows you to quickly pull it out to defend yourself against a threat. Their products contain a patent pending quick release and storage system you simply pinch and pull out to gain access to the hidden accessory. According to the company's cofounder, Han Yin, "In a bad situation where every second counts, you don't have the luxury to search through your bag or pockets to find something to protect yourself". They cleverly placed the accessories inside the grip so it's readily available and literally always in the palm of your hands. They believe their quick release system is the fastest and most secure way to get the accessories out when you need it most.
The three New Grip Products they're launching include a full size Heavy Duty Umbrella, Trekking Poles, and Bicycle Handlebar Grips. These three Grip Products are fully compatible with their Nunchuck Knife, Pepper Spray, and Storage tube accessories. A user who owns the Pepper spray accessory can simply remove it from their bicycle grips and plug it in their Umbrella during rainy days.
Nunchuck Grip Products and Accessories are available for sale now in various configurations on their website and Amazon. They plan to begin selling in select retail stores and specialty shops by the first half of 2017.
About Us
We love being outside whether we're riding our bikes or going for a hike. We feel that bringing along tools or a self-defense weapon to protect yourself is only half the solution when you're out there. Getting it out as quickly and efficiently as possible is the other half since every second counts when you're in a bad situation. Nunchuck Grips was founded to address this issue. We feel our products can make a difference and potentially save a life which is driving us to continuously improve and bring new exciting products to market.
Website: http://www.nunchuckgrips.com