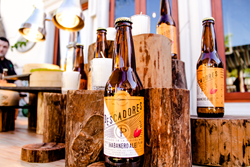 Riviera Maya, Mexico (PRWEB) October 26, 2016
El Pueblito at Mayakoba became a foodies' haven on Saturday, October 22nd as more than 600 people enjoyed delicious street food, craft beer and live music. Starting in the early evening, El Pueblito, which resembles an authentic Mexican plaza at the heart of Mayakoba, became the backdrop for an event like no other and joined the best of two worlds: craft beer and star chefs from the region.
Upon arrival, guests were treated to a personalized beer glass, hat, t-shirt and beer tasting tickets. Styles varied from Pale Ales and Pilsner to strong bodied Porters with chocolate and coffee accents and the best craft beers from the north of Mexico, courtesy of Finísima and Bocanegra. Great music and delicious food were the highlight of the night, making this inaugural event a new staple in Riviera Maya.
The talented chefs in attendance and their dishes were:
Chef Karla Enciso from Manyee — Traditional esquites served with Kastakan, and a trio of spicy mayonnaise: Xcatic and Lime, habanero, and red chili.
Chef Alexis Bostelman from Vidanta — Smoked Argentine sausage Bahn Mi with jicama, carrot and cilantro salad, barley bread, toasted chili mayonnaise, bitter orange and furikake.
Chef Eric de Maeyer from Fairmont Mayakoba — Bratwurst sausages, variety of sauerkraut, breads and condiments.
Chef Xavier Perez Stone from Axiote — Pibil mussel sandwich.
Chef Vincent Wallez from Andaz Mayakoba — Al Pastor tacos and veal cooked for 16 hours served with habanero oil with charred black garlic and cilantro essence.
Chef Pedro Abascal from Thompson Playa del Carmen — Octopus infladitas with relleno negro, chiltomate, pumpkin seed cream and quail egg.
Hugo Guerrero, Grand Hyatt Playa del Carmen Resort — Bomboloni filled with beer cream, served with chocolate sauce and foam.
Juan Pablo Loza from Rosewood Playa del Carmen — Grilled shrimp sopes with vegetable salpicon and habanero.
David Andrews from Banyan Tree Mayakoba — Beer glazed chicken wings.
Diane Di Meo from Di Meo Group — Smoked pull pork sliders with cabbage slaw and pickled jalapeños.
Eva Millan from Koba — Oxtail with salsa and pickled vegetables.
Guests had the opportunity to taste locally crafted beers from breweries such as Akumal, Cerveza Cancun, Pescadores and Mundo Maya.
The evening also included a live poll on Facebook, in which everyone in attendance could choose his or her favorite dish of the night. The winners were:
1st Place: Pedro Abascal from Thompson Playa del Carmen
2nd Place: Juan Pablo Loza from Rosewood Mayakoba
3rd Place: David Andrews from Banyan Tree Mayakoba
Riviera Maya Beer & Street Food Festival will return to the Riviera Maya March 11 and October 21, 2017. Tickets cost $200 pesos and include a welcome kit, beer tasting, and dishes and beer for $40 pesos. For more information please visit http://www.livemayakoba.com/ or contact Mayakoba at info(at)mayakoba.com or call +52 984 873 4900.
About MAYAKOBA: Located in the Riviera Maya just 15 minutes from Playa del Carmen, Mayakoba is an eco-friendly resort development on the shores of the Caribbean in Mexico. Surrounded by natural beauty in its lagoons, pools and sugar sand beaches, Mayakoba is home to four luxury hotels – Fairmont Mayakoba, Rosewood Mayakoba, Banyan Tree Mayakoba and Andaz Mayakoba (opening Winter 2016). The resort also offers a spectacular 18-hole course designed by renowned architect and PGA legend Greg Norman. The signature course is home to the OHL Classic at Mayakoba – the only PGA TOUR event in Mexico. Six miles of freshwater lagoons and lead to a white sand beaches with turquoise waters on the Caribbean Sea and connect all of the hotels. Mayakoba is an eco-conscious development and has implemented significant practices to encourage sustainability. For more information, please visit http://www.mayakoba.com