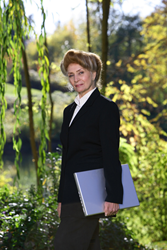 Grants Pass, OR (PRWEB) October 26, 2016
Water Life Science® advocate Sharon Kleyne, host of The Sharon Kleyne Hour Power of Water syndicated radio program on Voice of America, announces a new campaign to make homes safer. Kleyne urges everyone to stock up on Bio-Med Wash® in order to be prepared for disasters that inevitably find people in their own homes.
"We don't like to think about it, and it's so unpredictable," Sharon Kleyne says, but each of us has experienced an accident or accidents in the home." Kleyne shared the story of Jamal, who reached into the freezer for ice cubes and cut his hand on a freezer rack. It was a bad cut that later became infected. Ten days later, Jamal lost his hand to save his life. "Unfortunately," says Kleyne, "they could have saved his hand, too, if only they'd had Bio-Med Wash® in the apartment and micron-misted the wound." What makes this story even more tragic is that Jamal was a gifted piano student.
Another incident involved a Mrs. Burney, who accidentally scalded her arm while preparing a festive holiday meal for her large family. The holidays would have been a lot sadder, but Mrs. Burney was able to reach for Bio-Med Wash®, which she kept under the sink. Because she was able to mist her arm in five seconds, the pain and the severity of the burn were greatly minimized.
Created by Sharon Kleyne's water research center and company, Bio-Logic Aqua® Research Water Life Science®, Bio-Med Wash® is the first portable, non-saline, nonchemical, emergency eye, burn and wound wash product test-marketed and released worldwide. The Trade Secret tissue culture grade water that neither burns nor blurs is not administered as droplets. Instead, Bio-Med Wash® treats a wound with a painless, pure micron mist from a personal, portable hand-held humidifier that is easy and even fun to use. "And guess what?" says Kleyne. "It works! Bio-Med Wash® is sterile water—no additives and no chemicals—that trumps saline solutions when skin flesh suffers an injurious episode. You won't find another product like it on the market," says Kleyne, "Bio-Med Wash® flushes out the wound," Kleyne explains. "It's so easy to use," Kleyne adds, "especially when you're under duress.
The product is also a favorite go-to remedy embraced by the military, burn centers, trauma centers and hospitals everywhere. Fire departments and police departments love Bio-Med Wash®, and so do hospitals, physicians, schools and people engaged in athletic activities. First responders also adore Bio-Med Wash® and rely on it to clean their wounds and clear their eyes amidst the chaos of emergency situations. "It works so well," says Kleyne, "that your household will feel and actually be safer!" Having Bio-Med Wash® at home will relieve stress and anxiety, and promote swift healing, too, when those awful but inevitable home accidents occur.