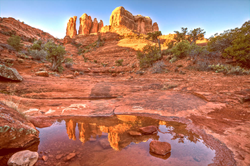 "He who knows others is wise. He who knows himself is enlightened." — Tao Te Ching
(PRWEB) October 27, 2016
SpiritQuest Sedona Retreats located at 75 Kallof Place, Suite 102, Sedona, Arizona hosts private and group retreats. Fall is a time of change, death and rebirth, as well as introspection for self-awareness and adopting new habits. It can be a time to go within and contemplate life, as well as any desired changes. Also, as the temperatures cool and pace of life slows, Fall is a time for reflection and reassessment. SpiritQuest has two remaining group retreats in 2016: the shamanic group November 4-6 and a healing group November 11-13. Fall and the holiday season can bring more emphasis on family and relationships. Customized personal, family or couple's retreats can help navigate change, inter-personal relations and holiday challenges. Also, new groups on the 2017 calendar include a couple's group February 17-19, 2017.
See the 2017 group retreat schedule and book a group retreat 30 days in advance to get $50 off. Registration is $595/person for all group retreats, and add-on session prices vary. The SpiritQuest Center can be reached at 928-282-2509 for personal or group retreat information and registration.
The new couple's group retreat will be offered February 17-19, 2017. This retreat explores communication dynamics for relationship enhancement. Participants join a small intimate group of others to learn what it means to be in the moment within empowerment and self-love. They also learn to be free from the past and create self-confidence within, allowing healthy communication to enhance relationships, not only with oneself, but also with others. This group retreat is open to couples as well individuals wanting to improve relationship and communication skills.
Fall is an ideal time for a family retreat. As the end of year draws close, renewed commitments to ourselves and improved relations can take priority. Also, holiday time off may make a retreat even more possible. The Family Retreat is an opportunity to examine family dynamics and learn healthy relationship skills to have even more fulfillment in the family and beyond. Parents and children alike can benefit from deep SpiritQuest work which may include new communication skills, as well as fun outdoor Sedona activities.