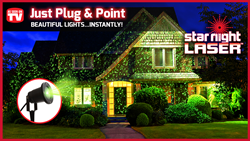 We're telling our customers StarNight Lasers are perfect for all winter celebrations including Halloween and Thanksgiving. With multiple settings and patterns, there are tons of ways to customize StarNight Lasers
Fairfield, NJ (PRWEB) October 27, 2016
"As Seen On TV" pioneer, Tristar Products, Inc. has announced a pre-holiday event for their StarNight Lasers and StarNight Laser Dancers.
This year, homeowners will be able to decorate with the LED star lights as early as Halloween. Decorating ideas include transforming backyards and landscaping into a breathtaking winter wonderland and setting a spooktacular mood for holiday parties.
"We're telling our customers StarNight Lasers are perfect for all winter celebrations including Halloween and Thanksgiving. With multiple settings and patterns as well as a choice between Original or Dancers, there are tons of ways to customize StarNight Laser lights. We can't wait to see all of the magical, star-lit scenes homeowners create this season," said Keith Mirchandani, President and CEO of Tristar Products, Inc. "We've designed StarNight Lasers and StarNight Laser Dancers so they're extremely simple to use and take barely any time to set-up. Just plug and point and thousands of lasers create a gorgeous star-field on your home or landscaping—instantly. They're water resistant too, so you don't have to worry if winter storms strike."
One suggestion is StarNight laser lights for Halloween parties. For hosts who want to add holographic, 3-D laser motion to their haunted home, Tristar is offering moving StarNight Laser Dancers, an animated version of the original design. Keeping with the company's commitment to saving time and eliminating stress, Tristar has equipped both versions with an automatic on/off timer homeowners set according to preference.
Another noted use is for StarNight Lasers is as landscape lighting to create a shimmering winter wonderland. They can even be used to illuminate a dark walkway. But, StarNight Lasers are not just outdoor lights. StarNight Laser lights can also decorate interior rooms of the home. Tristar suggests using them to add ambiance to a kitchen or dining room when guests come for a Halloween costume party, Thanksgiving football game, or New Year's gathering. The company wanted to take the hassle out of decorating, so both the Original Lights and the Dancing Lights have been designed for quick "Plug & Point" set-up.
"A lot of our customers tell us how happy they are to finally be free of messy light strands that are impossible to untangle and difficult to mount. With StarNight Laser, you simply aim & turn on," Mirchandani adds. "Homeowners love the LED laser lights for the magnificent, star-kissed look they give. This holiday season, anyone, regardless of budget, can instantly set the mood for a twinkling, shimmering, holiday celebration— even when there's no time to decorate."
Tristar Products, Inc. is industry recognized as the pioneer of innovative ideas in the direct response marketing business. Dedication to high standards of quality manufacturing makes Tristar the premiere "As Seen On TV" market leader worldwide. They create well-established brands, proven international and domestic distribution channels, media power in over 100 countries and quality manufacturing that attracts celebrity endorsements, Tristar Products, Inc. has exceeded over a billion dollars in sales. Tristar Products Inc. is an Inc. 5000 company.
For additional information on Tristar Products, Inc., StarNight Lasers and StarNight Laser Dancers, visit http://www.starnightdeals.com/ or http://www.tristarproductsinc.com.