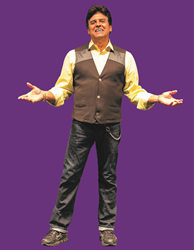 San Jacinto, CA (PRWEB) October 26, 2016
Soboba Casino is giving fans the opportunity to meet Erik Estrada live as host of "America's Greatest Game Show" on stage in the Soboba Arena as well as the chance to win up to $100,000 in cash and other great prizes on November 5th, 2016!
Guests will have the chance to win prizes including cash, free slot play, cruises, TVs, cameras, IPods, and much more on Saturday the 5th, so why sit around watching a game show on television when you can be part of the actual live audience? Not sure what to do on a Saturday afternoon? Bring the entire family to Soboba for some game-show fun. That's what "America's Favorite Game Shows" is all about. Soboba is giving game show enthusiasts and newcomers alike the chance to get in the game, be part of the live audience and the possibility to win big!
The event is 100% free and open to fans of all ages, though you must be a Club Soboba member and twenty one years of age or older to participate on stage, or be accompanied by an adult who is a Club member. Anyone who is not yet a member can sign-up for free on the day of the show in the casino. All you need is valid government issued photo ID.
In addition to the free show for the general public on November the 5th, Soboba Casino has been looking for winners to give a "VIP" experience for the show. Saturdays and Sundays in October between 4 PM and 9 PM guests have the chance to win a share of $55,000 cash plus two VIP tickets to the show. One winner will be drawn ever hour for their turn on the "America's Greatest Game Show" game board. Guests must earn 250 points between 12:01 AM October 1st and 8:59 PM on October 30th to enter for the chance to win.
Once 250 points have been earned, guests must swipe their Club Soboba Card at any promotional kiosk between 3 PM and 8:59 PM each promotional day to activate their entries.
According to Soboba Casino's Director of Marketing, Michael J, Broderick, "We are excited to welcome a TV icon like Erik Estrada and the crew of America's Greatest Game Show to Soboba!" He continued "One of our guests could walk away with $100,000! Hey Soboba wasn't voted 'Luckiest Casino' for nothing, and it sure would make Erik's day to give that money away to one lucky winner live at Soboba!"
Bring the whole family down to see the live show on November 5th! The doors open at 10:30 AM and the show starts at 2:00 PM. For the chance to participate, guests must swipe their Club Soboba Card at a promotional kiosk between 10 AM and 1:30 PM, then take their printed receipt to the Soboba Event Arena where they will enter for the chance to be on stage.
Soboba Casino features approximately 2,000 of the newest, hottest slot machines, an expansive and modern non-smoking room, 20 classic gaming tables featuring all your favorite card games, and a large outdoor event arena which easily accommodates over 10,000 people. Need to recharge & refresh? Visit the cozy Soboba Cafe and Coffee Kiicha, or experience AC's Lounge with full cocktail bar and three giant HD flat screens including the "Sobobatron", the Inland Empire's biggest HD video wall.
Soboba Casino is proudly owned and operated by the Soboba Band of Luiseno Indians. Come join us for all the fun and then some! Soboba Casino. Where Everybody Goes to Play! For more information visit: https://soboba.com