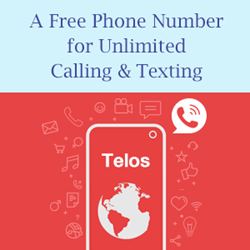 User Review: Best Cheap Calling App There are many reasons why i choose telos app, like you can earn credits easily, the sound quality is very good and i can have a real US number as well. I would suggest this app to anyone living abroad.
San Jose, California (PRWEB) October 27, 2016
New mobile communication company, Telos, announces the launch of their app which will reinvent mobile communication by giving people mobile phone services at zero cost, freeing them from the phone company.
People have been using the Internet for many decades and accessing the Internet on their mobile phones for many years but mobile phone costs are still as high as ever. Each year, the cost of mobile phone plans keeps increasing but the amount of data and minutes provided always seems to run out before the end of the month. Not to mention the high costs of long-distance international phone calls.
Telos dreams of reinventing mobile communication by offering cheap, even complimentary mobile phone services.
Telos' Services:
1. Get a real U.S. phone number with any area code without changing SIM cards
Users can easily choose a real U.S. phone number from within the Telos app, saving the hassle of going to a mobile provider's shop, filling out a contract and paying activation charges.
A Telos phone number works just like any normal phone number and it can be used to:

Make and receive calls
Send and receive SMS
Set-up voicemail and call forwarding
Dial-by-name directory
Send and receive fax from a mobile phone
Telos offers millions of U.S. phone numbers, even vanity numbers that cannot be found on AT&T or Verizon.
2. Add 2nd, 3rd even 4th phone number with no contracts, no commitments
With normal mobile carriers, each phone number requires a SIM card. With Telos app, the phone number is not carried on a SIM card but provided in the app itself. Users can get 2, 3 even 4 different phone numbers with Telos to use on their iPhone, Android phone, turning iPod, iPad or tablet into a real phone.
3. Super low-cost unlimited local phone calls & texts plans
Telos offers low-cost calling and texting plans, for example, for only $2.99/month, users can enjoy unlimited calling and texting.
Users can enjoy no-cost calls and texts by spending a few minutes each day to earn bonus credits to pay for the monthly plans.
There is no need to switch cell phone providers. Telos can be used in addition to the regular mobile provider or as a standalone service.
4. Cheap international calling & texting plans to over 200 countries
Telos offers many low-cost plans for international long-distance calls to over 200 countries including India, Mexico, Pakistan and Bangladesh.
Just like Telos' local U.S. calling plans, Telos international calling plans can be paid for with bonus credits. Telos offers users many ways to earn bonus credits to enjoy no-cost international calling and international SMS.
About Telos
Telos is a mobile application for iOS and Android. Located in San Jose, California, Telos was founded with the aim of becoming the next generation mobile service company. Telos provides users with a real U.S. phone number to make and receive calls and texts. Users can call anyone, text anywhere in the world for free or at very low rates.
http://www.telosapp.com