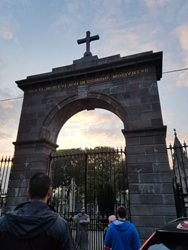 Viator has a wild and wooly selection of wicked tours and activities around the world
San Francisco, Calif. (PRWEB) October 26, 2016
Voodoo, ghosts, graves and the grim reaper await those brave enough to dive into the darker side of their destination. The team at Viator, a TripAdvisor company (NASDAQ: TRIP) and the leading online resource for tours and activities worldwide, has tallied a roster of the top 10 most popular Halloween-inspired tours and experiences around the world being booked by the bravest of souls anxious for a glimpse of a ghost, goblin or dearly departed.
1. The delicious yet daunting combination of beer drinking and body snatching is enough to make the Dublin Gravedigger Ghost Tour this year's most popular ghoulish activity booked on Viator. Travelers and locals delve into the darker recesses of Dublin's haunted history and learn about the devastating human effect of the medieval plague, eerie local sites such as Dublin castle and Kilmainham Jail, and how opportunist gravediggers made a killing (so to speak) on body snatching. Cap it off with a free 'ghoulish brew' at the famous Gravediggers Pub.
2. For a limited time only, the Day of the Dead Festivities in Oaxaca commemorates one of Mexico's most popular traditions. From October 31 to November 2, travelers can honor family and friends who have passed during festivities such as Arrival of the Dead, Dead Costume Parade or Farewell to the Dead.
3. A year-round favorite, the New Orleans Cemetery and Voodoo Walking Tour explores St Louis Cemetery No 1. including the tomb of Marie Laveau, the city's most revered voodoo priestess as well as NOLA's distinctive above‐ground burial system and its rich – and evolving – voodoo tradition.
4. Bringing the past to the present, the London Grim Reaper Walking Tour winds through London's dark corridors and infamous locations like the Tower of London and St Katharine's Docks and includes ghastly tales of murder, execution and depravity from a local expert guide.
5. For a mix of family-friendly fantasy, fiction and fright, the Walking Dead Filming Location Tour in Haralson offers morning and afternoon departures that provide behind-the-scenes explorations of season two through five filming locations including Cherokee Rose Retail, the Esco Feed Mill Complex, Merles Death Barn, the Meeting Barn and more.
6. Beantown's deep dark secrets are revealed during the Boston Ghosts and Gravestones Tour.
Once travelers board the Trolley of the Doomed, operated by a 17th-century grave digger guide, they'll roam the haunted streets and burial grounds of Boston including Copp's Hill Burying Ground.
7. The Haunted Walking Tour of Gatlinburg in the Smoky Mountain area of Tennessee is a 2-hour night walking tour during which travelers hunt supernatural spirits in a 200-year-old cemetery and attempt to communicate with the local "residents" using actual ghost-hunting equipment.
8. Tales of spirits and vampires, myths and legends about murders and unsolved mysteries thrill travelers on The Original Stockholm Ghost Walk and Historical Tour. Brave souls follow their guide's lighted lantern down the narrow alleyways of Stockholm's oldest neighborhood, where history and mystery will come alive through storytelling.
9. Travelers learn of the ghastly histories of monsters, madness and murder that cast a dark shadow on Scotland's capital city during the Edinburgh Darkside Haunted Walking Tour: Mysteries, Murder and Legends. For those who dare, the journey includes stories and sites of witch trials, pagan rituals and executions, body-snatching, vampires and more.
10. Rounding out the top 10 ghoul with a little bit of glitz, the Haunted Vegas Tour and Ghost Hunt uncovers the spooky secrets of Sin City with explorations of haunted buildings and one-time haunting grounds of famous Vegas regulars like Elvis, Bugsy Siegel and Redd Foxx, with complimentary ghost busting equipment and a pizza dinner as well.
In addition to these top 10 terrifying tours, Viator has a wild and wooly selection of wicked tours and activities around the world in places like Bucharest, Chicago, Dublin, Edinburgh, London, New Orleans, Paris, San Francisco, Savannah, and Venice. For more information, ghost hunters should check out Viator.com.
About Viator
Viator is the leading global tours and activities provider for travelers, delivering online and mobile access to thousands of pre-vetted travel experiences including tours, activities and attractions in more than 2,400 destinations worldwide. Viator's team travel insiders delivers the scoop on the best things to do wherever you travel including more than 1 million verified traveller reviews and photos, exclusive videos and expert travel tips; along with the assurance provided by 24/7 in-house customer support and global low-price guarantee. In addition to the flagship site – Viator.com – travelers can book in advance or at the last minute via the Viator Tours & Activities App, and 11 local-language sites for European, Latin American and Asian travelers. Viator also provides tours and activities to more than 3,000 affiliate partners including some of the world's top airlines, hotels and online travel agencies.
Founded in 1995 and acquired by TripAdvisor (NASDAQ: TRIP) in 2014, Viator is headquartered in San Francisco with regional offices in Sydney, London and Las Vegas. Travelers can like, follow and find Viator on Facebook, Google+, Instagram, Pinterest, Twitter and YouTube and explore and book experiences at Viator.com.