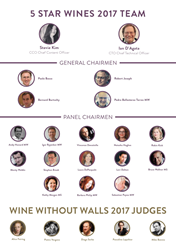 A well-represented knowledge of autochthonous varieties is unique to 5StarWines
Verona, Italy (PRWEB) October 26, 2016
Enrollment is open for the 2nd edition of the Premio enologico internazionale 5StarWines to be held in Verona from March 31st to April 2nd 2017. This year, further qualification of the panel of judges, will ensure that participating wine-makers, from any wine-producing country, will benefit from expert assessments and first-hand knowledge of each type of wine. 5StarWines provides valid promotional leverage for export markets, and is supported through Vinitaly International's activities world-wide. The new format, directed by Vinitaly International Managing Director, Stevie Kim, and Vinitaly International Academy Scientific Director, Ian D'Agata, made a successful debut during the 50th edition of Vinitaly, marking the creation of yet another strategic resource within an ever-more comprehensive, international marketing and promotional system.
Last year's competition saw the participation of 2,700 wines from 27 countries, of which, only 350 passed the stringent 90 point minimum required to receive the 5StarWine Award. Gone are the secondary silver and bronze awards from the previous enological competition, in an aim to intensify marketing efforts on a rigorous selection of top-tier wines. Moreover, the competition resulted in an interesting representation of Italian native grape wines, less well-known outside Italy. Wines from Germany and France were among those receiving top honors in the "Premio Speciale Gran Vinitaly": just one sign that 5StarWines also represents a strategic opportunity for international exhibitors at Vinitaly, the world's largest wine-trade show.
Both judges and wineries applauded the move to the 100-point scoring system, which gives a modern, no-nonsense approach to wine judging and tasting. Communicating the quality and the incredible variety of Italian wines with an assessment criteria familiar to wine-drinkers around the world, makes 5StarWines a valuable platform to showcase un-der-the-radar wines on an International stage, a unique and added value for export.
Buoyed by the success of the new format, next year's competition, to be chaired by Ian D'agata, is attracting an increasingly prestigious team of expert wine judges. Ian D'Agata explains, "5StarWines fills a void among today's international competitions. The fact that we've chosen a balanced panel comprised of Italian and International judges, including sommeliers from Michelin starred restaurants, buyers from state monopolies, and important journalists, lends credibility to the award and indirectly, is an opportunity for visibility and future sales, in particular for wines from native grapes. From my experience working in other international competitions, a well-represented knowledge of autochthonous varieties is unique to 5StarWines, as is the rigor applied in the selection of wines. The award rate in other competitions such as Decanter Wine Awards can arrive at 70%, in contrast to a less than 14% award rate during the first edition."
To discover the full panel of judges please visit: http://www.vinitaly.com/en/exhibitor-area/vinitaly-international-competitions/5-Star-Wines/judges/
The real results of the award's contribution to export promotion are still coming in, as Vinitaly International continues to feature winning wines during shows and events in Hong Kong, China, Russia, and a number of US cities. Award recipients are encouraged to take advantage of the 5Star labels which are provided to boost shelf appeal. The first feed-back has been generally positive:
From the Rèva winery, with a 95 point Barolo Docg Ravera 2012, Daniele Gaia- export manager, explains, "5StarWines was an important recognition for us. We've used the 5Star logo in all our company communication, and our clients and partners are pleased with the level of visibility it has generated in the press."
Count Alberto d'Attimis - M.M. of The Conte D'Attimis winery, recognized for their Friuli Colli Orientali DOC Bianco "Ronco Broilo" 2011, notes, "Our future is with native grapes, in the uniqueness and exclusiveness of our growing area. An international competition like 5StarWines, which sets high standards, in the selection process and knowledge of wine types, is where we are concentrating our marketing efforts."
And from The German winery, Weingut Anselmann, winner of the "Premio Speciale", Caro-line Lieberich affirms, "We have received several orders from German retailers. All bottles are furnished with the stickers and the diplomas are on display in our tasting room. We ha-ve also published flyers picturing the bottle with the sticker and the diplomas, in order to inform our customers about this great success."
Enrollment in 5StarWine 2017 opened on October 1st. Submissions of samples are due by February 1st 2017. A special package, which includes automatic participation in the
5StarWine Awards, has been created for exhibitors registering for the new, strategically located Vininternational Pavillion, in a move to support international wineries with additional strategic marketing resources.
http://www.vinitaly.com/en/exhibitor-area/vinitaly-international-competitions/5-Star-Wines/
*The General Chairmen returning this year are:
Paolo Basso (Association Sommellerie Internationale, World's Best Sommelier 2013)
Bernard Burtschy (Chief Columnist- Le Figaro Vin and several French magazines)
Robert Joseph (Editor at Large Meininger's Wine Business International)
Pedro Ballesteros Torres (Master of Wine)
Just a few of the top names among the International Panel of Chairmen are:
Laura De Pasquale - USA (Master Sommelier and Vice President & General Manager of Stacole Fine Wines)
Vincenzo Donatiello - ITALY (Head Sommelier, Piazza Duomo- Three Michelin Star Restaurant)
Bruce Wallner - CANADA (Master Sommelier and owner of Sommelier Factory)
Barbara Philip - CANADA (Master of Wine, Category Manager for European Wines at British Columbia Liquor Stores)
Stephen Brook - UK (Decanter Contributing Editor)
Levi Dalton - USA (Host of the "I'll Drink to That" podcast and former Sommelier at some of America's most prestigious restaurants)
Andy Howard MW - UK (Former Chief Buyer, Marks&Spencer)
Sebastian Payne MW - UK (Master of Wine and Chief Buyer, the Wine Society)
About:
Veronafiere is the leading organizer of trade shows in Italy including Vinitaly (http://www.vinitaly.com), the largest wine and spirits fair in the world. During its 50th edition Vinitaly counted more than 4,100 exhibitors on a 100,000+ square meter area and 130,000 visitors from 140 different countries. The next edition of the fair will take place on 9 - 12 April 2017. The premier event to Vinitaly, OperaWine (http://www.vinitalyinternational.com). "Finest Italian Wines: 100 Great Producers," will unite international wine professionals on April 8th in the heart of Verona, offering them the unique opportunity to discover and taste the wines of the 100 Best Italian Producers, as selected by Wine Spectator. Since 1998 Vinitaly International travels to several countries such as Russia, China, USA and Hong Kong thanks to its strategic arm abroad, Vinitaly International. In February 2014 Vinitaly International launched an educational project, the Vinitaly International Academy (VIA) with the aim of divulging and broadcasting the excellence and diversity of Italian wine around the globe. VIA this year launched the second edition of its Certification Course and today counts 54 Italian Wine Ambassadors and 3 Italian Wine Experts.
###