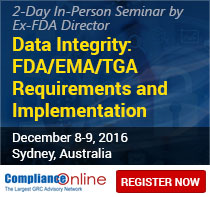 Data Integrity: FDA/EMA/TGA Requirements and Implementation
Palo Alto, CA, USA (PRWEB) October 26, 2016
ComplianceOnline, the leading governance, risk and compliance advisory network with over 500 experts in various regulatory subjects, today announced a seminar on Data Integrity: FDA/EMA/TGA Requirements and Implementation. The two day seminar led by ex-FDA Director David Chesney will be held on December 8 and 9, 2016 in Sydney, Australia.
Data integrity lapses are among the most serious concerns that pharmaceutical regulatory authorities have. This workshop not only ensures a full understanding of the data integrity regulations and guidelines but also provides templates and examples to develop documentation prepared for audits. The course will also help you understand the important steps to take to prevent, detect and react to data integrity problems.
For more information or to register for the seminar, please click here.
Speaker David L. Chesney is the Principal and General Manager of DL Chesney Consulting, LLC. His career includes 23 years with the FDA and over 21 years in GMP and GCP consulting worldwide. In his consulting practice, Mr. Chesney helps clients prevent quality and compliance problems through proactive assessment and planning, and when necessary, with remediation planning and health regulatory authority communications.
This course is designed for personnel who generate, review and archive data in manufacturing, pre-clinical testing laboratories, clinical trials, and in support of marketing authorization applications to health regulatory agencies.
Date: Thursday, December 8, 2016 (8.30 AM- 4.30 PM) and Friday, December 9, 2016 (8.30 AM- 4.30 PM)
Location: Radisson Hotel & Suites Sydney, Australia
Registration Cost: $1,499.00 per registration
Early bird discounts: For discounts on early registrations, please click here.
Register by phone: Please call our customer service specialists at +1-888-717-2436 or email to customercare@complianceonline.com
For more information on ComplianceOnline or to browse through our trainings, please visit our website.
About ComplianceOnline
ComplianceOnline is a leading provider of regulatory compliance trainings for companies and professionals in regulated industries. ComplianceOnline has successfully trained over 35,000 professionals from 9,000 companies to comply with the requirements of regulatory agencies. ComplianceOnline is headquartered in Palo Alto, California and can be reached at http://www.complianceonline.com. ComplianceOnline is a MetricStream portal. MetricStream (http://www.metricstream.com) is a market leader in Enterprise-wide Governance, Risk, Compliance (GRC) and Quality Management Solutions for global corporations.
For more information please contact:
A Reuben Bernard
Associate Director - ComplianceOnline
2600 E Bayshore Rd
Palo Alto CA USA 94303
Phone - +1-650-238-9656 | +1-888-717-2436
Fax - 650-963-2556
Mail: reuben(at)complianceonline.com
Website: http://www.complianceonline.com