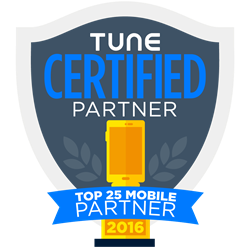 Following closely after players like Google, ironSource's high rank is a testament to the quality and scale of their inventory.
Tel Aviv (PRWEB) October 26, 2016
Global technology powerhouse ironSource has been ranked 5th in leading mobile attribution platform TUNE's Top 25 Global Advertising Partners of 2016 list. Following closely after players like Google, ironSource's high rank is a testament to the quality and scale of their inventory.
"ironSource offers end-to-end solutions for both developers and advertisers, which means we control a huge amount of market supply, giving us the necessary scale and direct relationships to provide a viable alternative to walled garden options like Google and Facebook," said Omer Kaplan, CMO and Co-Founder of ironSource.
In order to build the list, TUNE created an algorithm, scoring over 400 of their 1000+ most active advertising partners. The algorithm took eight qualities into consideration: adoption, reputation, TUNE certified partner program, clicks/taps, installs, revenue per install for a 30 day period, revenue per install for a 60 day period, and retention.
The largest independent platform offering mobile monetization and marketing, ironSource has over 80K apps using its technologies to turn their apps into successful businesses. Following a merger with Supersonic in January 2016, the company reaches 800M users every month globally, meeting them at various touch-points along the user journey. This, coupled with ironSource's direct supply channels positions the company as a critical player in the mobile ecosystem.
"The fact that we work with so many partners from both the demand and supply side gives us the ability to see data from across the user journey, and that multi-touchpoint data allows us to offer the kind of user segmentation and targeting that sets our solution apart. That proprietary data, combined with really innovative ad units that see high-engagement is what makes us the go-to partner for so many major advertisers," Kaplan continued.
Advertisers working with ironSource also benefit from exclusive, untapped supply available through the ironSource Aura platform. Launched in early October 2016, ironSource Aura is a dynamic content recommendation platform for device manufacturers and mobile carriers, which is deeply integrated into the user experience of millions of mobile devices worldwide. In stealth mode up until now, the solution gives advertisers the opportunity to rise above the noise and engage with potential users through various touch-points throughout the lifecycle of the device.
"User acquisition today is becoming more and more competitive, with distribution channels growing increasingly saturated," continued Omer Kaplan. "For advertisers looking for unique supply, we're able to provide them with an exclusive opportunity to engage users at the specific moment where they are wired to install apps, and with the solution shipping on 100 million devices, we're able to couple that with serious scale."
About ironSource
ironSource builds monetization, engagement, analytics and discovery tools for app developers, device manufacturers, mobile carriers and advertisers. Our comprehensive solutions help industry leading companies achieve greater business success, enabling them to find, understand, engage with, and monetize their target audiences more effectively. Over 80K app developers are using our developer solutions, and our enterprise technology is shipping on hundreds of millions of devices worldwide, giving ironSource the ability to reach over 800 million unique users every month, globally. Founded in 2010, ironSource is a truly global company, with offices in Tel Aviv, London, New York, San Francisco, Beijing and Bangalore. Read more at http://www.ironsrc.com.