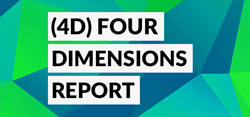 Boardman, Ohio (PRWEB) October 28, 2016
People Analytics Measures Taken to the Next Level with PeopleKeys' 4 Dimensions of Personality Report:
PeopleKeys, International leader in Behavioral Analysis and personality assessment, announced the release of its new comprehensive personality report- "The Four Dimensions of Personality" (4D). This thorough report can assess personality utilizing over 1440 different points of comparison. PeopleKeys offers individual customization of the 4D report.
Personality assessment and people analytics that assess on this level are unprecedented, and no other people analytics company can offer data that assesses this high of a number for points of comparison. The 4D report can assess 4 different dimensions of personality, behavior, thought processes, and motivation. The new assessment combines the DISC, Thinking Style, Values and BAI reports into one thorough and comprehensive analysis.
John Schindell, Master Trainer for PeopleKeys comments on the new 4D report:
"This product really offers unprecedented levels of insight into a person's inner workings. Using the 4D report, employers can anticipate how a potential new employee with think and behave. They can understand what this person is passionate about, what motivates them, and what environments they will thrive within. It is an indispensable tool for team building and leadership development. And the great thing about this report is that when you incorporate an understanding of these concepts into your corporate culture, you provide a framework for people who are not naturally introspective to ask themselves important questions. You can have frank and productive conversations about how to improve an employee's morale and how to enhance interpersonal relationships within a team. It takes the elephant out of the room, and gives a team a system for solving their interpersonal issues, rather than just airing the same grievances."
PeopleKeys offers fully customizable hiring benchmarks on their products. This means that they can send a business' Hiring Managers a survey regarding the type of person they need in their team, what problems and gaps exist within their current team, and what type of employees have been successful in the past. PeopleKeys will use this information to create fully customized benchmarks that are designed to meet the specific needs of the company based upon the results of the Hiring Manager's survey. This will enable companies to replicate top talent and avoid replicating the traits of less successful employees.
PeopleKeys' benchmarks are available as fully customized to the specific criteria of a company, or as a standardized benchmark that has been created for common positions (i.e. sales or management).
According to Ashley Kulkin, DIrector of Operations for PeopleKeys:
"This 4D report really sets the standard for people analytics. Every company can benefit from gaining insight into how their employees (or potential employees) think and behave in different scenarios. The four different reports really give you a lot of information about a person. The DISC report will tell you which environments are best for a specific person, and tell you all about the observable and predictable decision making patterns, communication styles and organizational systems that they will engage in. The BAI profile will catalog the passions, motivations, and interests of a person, allowing employers to design their team in a way to create contentment and longevity in a position. The Thinking Style profile can tell you about what thinking style strengths a person has both as an individual and in a group thought environment. This can help you to solve the problem of having too many delegators, and not enough people accomplishing tasks. And the Values report can tell you about the internal motivators of an individual, helping you avoid placing an employee in an environment where they will be constantly bucking up against the requirements of their position."
To explore the Four Dimensions of Personality Report and have a free PeopleKeys 2.0 account set up for you, please contact PeopleKeys sales[at]peoplekeys[dot]com or 330-599-5580.
About PeopleKeys
PeopleKeys has been an International leader in Behavioral Analysis and personality assessment for over thirty five years. They have been providing assessments to measure the correlations between personality and behavior in order to enhance productivity, improve relationships, reduce stress and minimize conflict. PeopleKeys' DISC based personality assessments and Behavioral Analysis tools, reports, and assessments have been translated into over a dozen languages and are available Internationally.