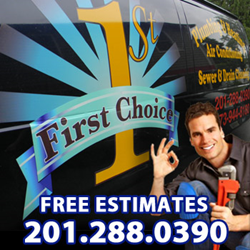 Hasbrouck Heights, NJ (PRWEB) October 27, 2016
According to the Bureau of Labor Statistics, plumbers and pipe fitters are on the rise, featuring a ten-year growth rate much faster than average. Plumbing industry professionals have an ongoing debate between choosing whether to recommend copper piping and CPVC piping to residential and commercial property owners. To help property owners make a more informed decision, this article will look at the pros, cons, and misconceptions of each.
For hundreds of years, copper has been the traditional choice for piping due to its reliability and ensured safety. With 5.3 million miles of copper tubing installed in the US, it is clearly an option that is dependable. Copper can also naturally kill bacteria and is incredibly durable while maintaining flexibility. Unfortunately, copper is unable to handle more acidic water, which can slowly breakdown copper and cause subtle, but expensive leaks requiring professional plumbing repair. Copper is on the more expense side, often fluctuating with global markets, but generally remains more expensive than CPVC.
Many plumbing technicians consider CPVC to be 'cheap' and low quality. This accusation does have some basis because of its lesser durability and susceptibility to earthquake and fire damage. But for all non-disastrous purposes, CPVC is beyond capable of supporting varying pressures and temperatures. Many plumbing technicians avoid CPVC because of the safety of the material as they believe it negatively affects the chemical composition of water. This accusation is rather unbiased and the National Science Foundation certifies these pipes, ensuring there is no effect on the water inside of them. In summary, the decision on choosing copper piping or CPVC piping depends on the property owners using the water, the environment around the property, the acidity of the water, and the overall budget of the plumbing project.
1st Choice Plumbing, Heating & Drain Service is a fully licensed and insured plumbing company that has been providing a variety of professional plumbing services in New Jersey for many years. Their expert plumbing technicians have the skills and experience to provide emergency plumbing service, air conditioning repair, heating repair, sewer & drain cleaning, new plumbing installations and much more. Convenient scheduling and reasonable rates are why 1st Choice Plumbing has a track record of completing jobs promptly and efficiently. For more information, call 1st Choice Plumbing, Heating and Drain Service at (201) 288-0390.