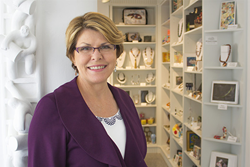 Cultural Concierge works with individual travelers, visiting groups, travel professional and event planners to create custom itineraries to suit their specific interests
New York, NY (PRWEB) October 27, 2016
Palm Beach County is certainly known for its miles of beachfront communities along the Atlantic but who knew it was Florida's Cultural Capital®? In fact, The Palm Beaches has more cultural venues and events per capita than any destination south of Atlanta…42,000 of them, to be exact. To help tourists navigate through all the cultural events, activities and opportunities that await them, the Cultural Council of Palm Beach County has established the world's first Cultural Concierge, a customized (and complimentary) service that works with visitors to help create the perfect itinerary to satisfy their specific cultural tastes. ExpertFlyer recently sat down with Bama Lutes Deal, Ph.D., Palm Beach County's Cultural Concierge, to discover why matching travelers' specific artistic passions with Palm Beach County's offerings is her favorite part of the job.
"Cultural Concierge works with individual travelers, visiting groups, travel professional and event planners to create custom itineraries to suit their specific interests," explains Bama Lutes Deal. "Whether it's art, dance, music, theater, or many other artistic genres, there are countless ways travelers can see, experience, and participate."
With some initial input from travelers about where their cultural interests lie, Deal, a PhD musicologist and cultural expert, will provide an extensive list of events and activities available during their visit and work with travelers to develop a truly customized experience that, according to Deal, often become the highlight of their trip. "Matching their interests and passions with our cultural offerings, and discovering those hidden gems, often become the most memorable aspect of their vacation or business trip."
Business travelers often look for ways to productively spend their free time in cities they visit and working with the Cultural Concierge prior to arrival may be the most effective and efficient way to discover a great way to "localize" themselves while traveling on business.
"The Cultural Concierge established by the Cultural Council of Palm Beach County is really a win-win for everyone involved," says Chris Lopinto, president and co-founder of ExpertFlyer.com. "It benefits the traveler by pairing their personal interests with those readily available in their target destination at no cost to them. For Palm Beach County, it supports the existing outlets and programming available by creating public awareness in a manner that is unique and customized to every visitor. Properly executed, the service is a magnificent way to maximize everything Palm Beach County has to offer."
To read the entire interview with Bama Lutes Dean, please visit ExpertFlyer's blog.
About Palm Beach County Cultural Council (and Cultural Concierge)
The Cultural Council of Palm Beach County is the official support agency for arts and culture in The Palm Beaches, serving non-profit organizations, artists and arts districts. The Cultural Council administers $4.5 million in grants annually, supports arts and cultural education, provides capacity-building training, and advocates for arts funding and arts-friendly policies. The Council promotes Palm Beach County's cultural experiences to visitors and residents through multi-platform marketing and public information programs, including its one-of-a-kind Cultural Concierge service.
The Cultural Council presents exhibitions featuring Palm Beach County artists and provides additional programming at its headquarters in the historic Robert M. Montgomery, Jr. Building, an iconic Streamline Moderne former movie theater in Downtown Lake Worth. Also at the Cultural Council headquarters are the Roe Green Uniquely Palm Beach Store featuring products by Palm Beach County artists and the Jean S. and Frederic A. Sharf Visitor Information Center, a VISIT FLORIDA designated Florida Certified Tourism Information Center.
The Cultural Council galleries, visitor information center and store are open 10 a.m. - 5 p.m., Tuesday through Saturday. For a complete calendar of cultural activities in The Palm Beaches, connect with the Council at palmbeachculture.com or (561) 471-2901. To plan a personalized cultural itinerary, connect with the Cultural Concierge at palmbeachculture.com/concierge.
About ExpertFlyer.com
Each month, ExpertFlyer's One-on-One blog goes face-to-face with the travel industry's leading decision makers to discuss and address topics relevant to many of today's business and frequent travelers.
ExpertFlyer.com was conceived and created by an eclectic team consisting of a veteran elite tier frequent flyer, an airline captain and corporate travel manager, and information technology professionals to deliver a 24/7 real time powerful air travel information service. The company provides its subscribers and corporate travel managers alike with a complete, concise and efficient way to access the ever-changing details of worldwide air travel information. For more information, please visit expertflyer.com.
Stuck in the middle seat again? Download the free Seat Alerts app from ExpertFlyer and get the window or aisle seat without hassle or frustration.
# # #