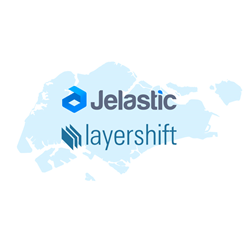 We received a lot of positive feedback from European and US based customers about Layershift, and glad to announce the expansion of their services to Asia, especially to such actively developing country as Singapore
Palo Alto, California (PRWEB) October 27, 2016
Jelastic, Inc., announced today the Jelastic Cloud Union has surpassed 40 data centers with the addition of Platinum partner Layershift's new Singapore region; Jelastic 41st, and Layershift's 3rd.
By expanding to Singapore, Jelastic strengthens their presence in Asia, and is now available in 4 different locations: Japan, Kazakhstan, India and Singapore.
"This expansion sees Layershift become the first hosting provider offering the Jelastic PaaS across 3 continents (Europe, USA and Asia). This gives access to all 3 from a single pane of glass; a huge advantage for customers deploying applications across multiple locations," said Damien Ransome, Layershift's Service Director. "We are raising the bar of Jelastic Cloud in Asia; we are the only ones offering pure SSD in the continent, and I'm delighted to be able to bring our strong service and performance levels to South East Asia."
"The combination of superior support, high performance and active promotion of the product made Layershift one of the fastest growing Jelastic hosting partners. We received a lot of positive feedback from European and US based customers about Layershift, and glad to announce the expansion of their services to Asia, especially to such actively developing country as Singapore" said Ruslan Synytsky, Jelastic CEO and co-founder.
Jelastic PaaS is a scalable platform for hosting Java, PHP, Ruby, Python, Node.js and Docker-based applications in the cloud. Automatic scaling features enable any application to scale resources up and down automatically based on demand, eliminating outages caused by resource shortages. Compared to traditional cloud hosting models where you pay based on server size, Jelastic hourly pricing is based on the actual resource consumption and doesn't require paying for the reserved resource limits beforehand. This unique pricing model combined with automatic scaling provides a cost-effective solution for developers and SMBs to save money, as well as to speed up time to market.
About Layershift
Layershift Ltd is a privately owned and operated managed hosting provider incorporated in 2006, headquartered in Manchester,UK. Their infrastructure expanded by 2016 to 6 datacenters across Europe, North America and Asia, offering 24x7 fully managed SSD servers and award winning customer support (rated above 97% in Q3 2016 - via Nicereply). Offering Public and Private Cloud, Layershift services include a wide range of VPS's, Jelastic PaaS, Dedicated servers, as well as complex hosting solutions for enterprises. Learn more about Layershift's hosting solutions.
About Jelastic
Jelastic is a DevOps PaaS and CaaS for business that can be deployed on bare metal hardware or any IaaS. The platform provides certified containers for Java, PHP, Ruby, Node.js, Python and .NET and the ability to use custom Docker containers. Jelastic offers agile deployment models without coding to proprietary APIs, flexible automatic scaling for stateless and stateful applications, collaboration, access control, monitoring, backup and disaster recovery, built-in billing and business analytics tools, while driving down TCO with high density and hardware utilization. For more information, visit http://www.jelastic.com