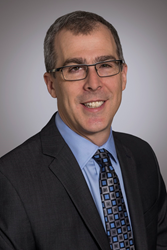 Steven's knowledge of both planning and analysis, along with his involvement with major Southern California transportation projects, further expands HNTB's capabilities to meet the emerging needs of regional transportation clients
LOS ANGELES (PRWEB) October 26, 2016
Steven Greene, PhD, joined HNTB Corporation's West Division transit practice as group director, planning, and associate vice president. At HNTB, Greene will be responsible for the development and support of the firm's expanding multimodal transit planning practice, focusing on transit and corridor studies, and work with clients to advance projects from early feasibility studies to delivery. He is based in the firm's downtown Los Angeles office.
With more than 15 years of expertise in transportation planning and analysis, Greene has extensive experience conducting feasibility studies for regional transportation agencies, including the Los Angeles County Metropolitan Transportation Authority and the Southern California Association of Governments.
"Steven's knowledge of both planning and analysis, along with his involvement with major Southern California transportation projects, further expands HNTB's capabilities to meet the emerging needs of regional transportation clients," said Andres Ocon, PE, HNTB Southern California office leader and vice president. "His excellent management and leadership skills are a key asset that will support our clients as they continue their efforts to build future transportation networks that are safe, efficient and effective."
Prior to joining HNTB, Greene served as senior program manager and associate vice president for another transportation consulting firm. His experience includes planning and engineering of the light rail transit alternative for Metro's SR 710 North Study; ridership and financial forecasts for that agency's Sepulveda Pass Corridor Systems Planning Study; and studies of post-Environmental Impact Report refinements for Phase 2B of the Gold Line Foothill Extension for the Gold Line Foothill Extension Construction Authority. He was also the consultant project manager for the aviation chapter of the 2016 Regional Transportation Plan/Sustainable Communities Strategy for the Southern California Association of Governments.
Greene holds a Master of Planning from the University of Southern California and a Doctor of Philosophy in psychology from Stanford University.
HNTB is a leading infrastructure solutions firm in the U.S., with roots to the West since beginning work on Pasadena's Arroyo Seco Bridge in 1914, the firm's first year of operation, and has since been involved in some of the region's most high-profile, complex infrastructure programs.
HNTB's many signature infrastructure projects in Southern California include Interstate 405 Sepulveda Pass Improvements project, the Tom Bradley International Terminal Expansion for Los Angeles World Airports, and the "Green Build" expansion at San Diego International Airport.
Currently, HNTB is providing design and engineering services for the Crenshaw/LAX Transit Project on behalf of the Los Angeles County Metropolitan Transportation Authority and working with the City of Los Angeles to deliver final design and construction support services for the Sixth Street Viaduct over the Los Angeles River between downtown and Boyle Heights.
About HNTB
HNTB Corporation is an employee-owned infrastructure solutions firm serving public and private owners and contractors. HNTB's work in California dates back to its founding in 1914. Today, HNTB continues to grow in size and service offerings to clients in California from eight office locations, currently employing more than 350 full-time professionals. With more than a century of service, HNTB understands the life cycle of infrastructure and addresses clients' most complex technical, financial and operational challenges. Professionals nationwide deliver a full range of infrastructure-related services, including award-winning planning, design, program management and construction management. For more information, visit http://www.hntb.com.