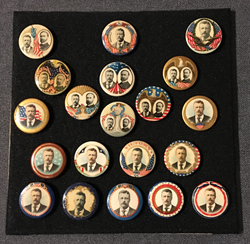 The exhibit, on loan to the museum, will be on display until after November's Presidential Election Day. This exhibit shows the history and impact of campaigning in America.
(PRWEB) October 31, 2016
Franklin County Visitors Bureau invites visitors to reflect during this year's presidential campaign by looking back and viewing vintage campaign buttons at the Allison-Antrim Museum in Greencastle.
The series of buttons, open now until after the election on Nov. 8, covers elections from Theodore Roosevelt's campaign to the 2008 election of McCain & Obama. Some of the earliest include William McKinley, Theodore Roosevelt, Franklin D. Roosevelt, Herbert Hoover, and campaign buttons of opponents like Bryan and Stevenson.
The exhibit, on loan to the museum, will be on display until after November's Presidential Election Day. This exhibit shows the history and impact of campaigning in America.
Some of the memorable and interesting slogans include "Win One More for the Gipper" and "Stay the Course" for Reagan's campaign, the "I Like Ike" campaign button and "For the Love of Ike" button for Dwight Eisenhower, and the "Unite America" and "Compassionate Conservative" buttons for George W. Bush as well as more recent slogans such as Obama's "Yes We Can" Campaign.
As well as the promotional buttons, don't forget to check out an original, handmade Presidential banner for candidates William Henry Harrison and John Tyler with the famous "Tippecanoe and Tyler Too" slogan. This item was donated to the museum.
Franklin County has deep ties with presidential history. Franklin County is Buchanan's birthplace and has a state park in the area named after him, Buchanan's Birthplace State Park. Located in the area of what was called Stony Batter, this wooded area once had log cabins and trading posts for settlers. The log cabin where Buchanan was born was moved from Stony Batter to Chambersburg and in the 1950's, was moved to the grounds of the Mercersburg Academy.
President James Buchanan's boyhood home is in Mercersburg. The building, now called the James Buchanan Pub & Restaurant, operates as a hotel and dining establishment. This structure was also where the future 15th President of the United States helped his father run a business and begin his training before he left at the age of 16 to pursue college.
Harriet Lane, Buchanan's niece, served as First Lady during the bachelor president's term and also lived in Mercersburg. Her home is located in downtown Mercersburg. After his death, Lane dedicated herself to honor her uncle through the creation of a monument on the site. The pyramid monument, created after her death through her last will, is in the state park. In addition, a monument for Buchanan was created in Washington, D.C.
Mercersburg was also home to the Irwin Sisters. When President William Henry Harrison was elected the ninth President in 1840, his widowed daughter-in-law Jane Irwin Harrison became the hostess in the White House because President Harrison's wife, Anna Harrison, was ill and could not travel. Jane's sister Elizabeth married President Harrison's brother John, becoming Elizabeth Irwin Harrison. Together, Elizabeth and John had many children, including future President Benjamin Harrison, the 23rd President of the United States and grandson to President William Harrison.
President George Washington came through the town of Chambersburg in 1794 on his way to review troops in Bedford who were suppressing the Whiskey Rebellion. He stayed, with staff, at the Morrow Tavern, a two-story stone house that is on the main street. The Franklin County Visitors Bureau is now housed in that building downtown.
The Allison-Antrim Museum, 365 South Ridge Avenue in Greencastle, is open regularly Tuesday through Friday, from noon to 4 p.m. and Saturdays 11 a.m. to 1 p.m. For more information, visit http://www.greencastlemuseum.org or call 717-597-9010.
The Franklin County Visitors Bureau invites all to explore Franklin County PA and enjoy the history, arts, recreation, natural beauty, fresh foods and warm hospitality of communities like Chambersburg, Greencastle, Mercersburg, Shippensburg, and Waynesboro. Franklin County PA is located just north of the Mason Dixon Line and an easy drive to Washington DC, Philadelphia, and Pittsburgh. Discover more….plan your visit at ExploreFranklinCountyPA.com , by contacting 866.646.806.