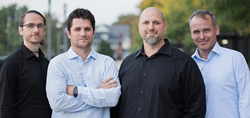 We have been able to automate the manual, legacy processes that come along with managing a residential rental property.
Lansing, Michigan (PRWEB) October 27, 2016
A.I. is rapidly changing the landscape for many traditional business models, but landlords and tenants have been left behind in the digital revolution. Frustrated by payment processing, complex screening methods, and antiquated sales, marketing, and legal systems, landlords and tenants alike are desperate for a new solution to replace and refresh their pre-Internet area methods.
The widespread frustration and industry lag has created many problems for landlords left to self-service their properties, which is why network security industry veterans Sean Heiney and Clif Bratcher have teamed up with marketing and rentals expert Camron Gnass and insurance/finance executive Brant Hartle to deliver an autonomous, security focused, next-generation landlord/tenant experience.
"We have been able to automate the manual, legacy processes that come along with managing a residential rental property. Our cloud-based software is delivering a next-generation platform to technology hungry landlords and tenants --who have asked us for software to bring them into the digital age -and relieve their daily frustrations." --Sean Heiney, CEO
Designed as a self-service, turn-key platform that enables landlords to work hassle-free, Rentr.com is a complete solution. Combining payment processing, screening, property marketing, tenant communication, legal operations, maintenance facilitation, and tax/accounting systems in a complete, next-generation, A.I.-lifted platform is a unique offering that is bound to revolutionize a $12B domestic industry.
Security a focus: Although a revolutionary product for the rental industry, company founders believe it was important to emphasize security in product architecture. Rentr's expansive experience and expertise in the network security space has enabled them to be security-focused from inception. "A lot of SaaS solutions make this an after-thought, but we understand the need to protect and secure this sort of data from the go." - Clif Bratcher, Chief Technology Officer
Next-Generation Renting
Rentr.com is building a next-generation platform that uses machine logic and cloud based software to make decisions and actions that assist property owners. A few of the next-gen features in active development include:

Automated screening and tenant identify verification
Self-showing of rental units - tenants can find, apply, and lease with or without human interaction
Rentr Score - proprietary scoring system using credit, public, and socially available information to give intelligent applicant-rankings and property compatibility analysis
Automated marketing and property syndication - Rentr's service makes sure the landlords properties are listed in all available Internet outlets
System generated accounting, expense tracking, and automated year end tax information document production
Instantly executable landlord and tenant rental, property, and renters insurance
A.I.-assisted maintenance issue resolution and service provider dispatch
System generated legal contracts and notices- electronically delivered, signed, executed and filed
Rentr's extended services platform- making it easy to deliver third-party products (moving services, contractors, lawn maintenance) that make sense to be a part of the rental process
A diverse, experienced, and competent management team is building Rentr:
Company CEO Sean Heiney is a SaaS veteran, who built and sold network SaaS security company Periscan to Catbird Networks in 2004. After Persican, Sean served as a intrapreneur- building, launching, and managing security and infrastructure products at Barracuda Networks, until they IPO'ed in 2013.
Clif Bratcher, CTO, a lead engineer at Barracuda and most recently at Duo Security, has extensive experience building, delivering and managing secure, massively scalable applications,platforms and teams. Clif leads Rentr's distributed development team.
Camron Gnass, CMO, owns multiple rental urban lofts and has experienced landlord frustration first-hand. Camron, as brand manager and marketer for many national brands, led his agency Traction for over 20 years to regional fame and notoriety, and currently shares his knowledge with future marketers as an instructor at Michigan State University. Cam leads branding, marketing and product design at Rentr.
Brant Hartle, CFO, a recurring revenue model and insurance industry veteran, spent 15 years leading finances for a large insurance agency following years as a certified public accountant for Andrews Hooper Pavlik PLC. Brant's designing accounting products to enable landlords to be tax-compliant and is in charge of Rentr's insurance business unit.
As top-tier group of hackers and development minds equally frustrated with the rental processes and landscape, Rentr's.com development team comes with senior expertise and experience from security companies Barracuda Networks and Duo Security, and consumer-service brands like Disney and ePrize. After nearly 9 months of design and development, the team is ready to open up services to beta testers. "We plan to slowly allow trusted contacts to provide an increased feedback loop on our offering, as we work towards end of the year public release in limited markets." said Sean Heiney, CEO.
Although the company is currently self-funded they are entertaining venture capital funding to help them scale rapidly. "We recognize that this landscape is changing rapidly and that 5-10 years from now, there will be a leader in this space. We're confident we have the right mouse-trap."
About Rentr.com
Founded in 2015, Rentr.com is a rapidly growing startup focused on delivering turn-key, next generation products for residential landlords and tenants. Based in Lansing, Michigan and built by technology and industry veterans Sean Heiney (Barracuda Networks, Periscan), Clif Bratcher (Barracuda Networks, Duo Security), Camron Gnass (Traction, Michigan State University), and Brant Hartle (SCW Agency Group, Andrews Hooper Pavlik PLC), Rentr develops software-as-a-service and artificial intelligence that automates many of the property management tasks for landlords.
Rentr's services are currently in beta-testing and accepting applications at their website (http://www.rentr.com). Early-access will be provided to tenants as they roll out to select markets in 2017.
http://www.rentr.com
https://vimeo.com/170999600
# # #