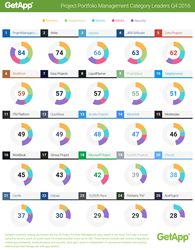 ProjectManager.com had a strong showing for all data points, in particular with scores of 18 in mobile app availability and integrations, for an overall score of 84
Barcelona, Spain (PRWEB) October 27, 2016
Projectmanager.com remained in first place in GetApp's quarterly ranking of the top 25 project portfolio management solutions, followed by Wrike in second place and dapulse coming in at third place.
The ranking provides a first-glance look at the top project portfolio management solutions and is aimed at business owners and decision-makers that need advice when purchasing software. The ranking is made up of five distinct data points that are each worth 20 points, for a maximum possible score of 100. The five data points are: security, user reviews on GetApp, iOS and Android availability combined with average scores from the Play and App stores, integrations, and media presence.
"ProjectManager.com had a strong showing for all data points, in particular with scores of 18 in mobile app availability and integrations, for an overall score of 84. Coming in at second place with 74 points was Wrike, thanks in part due to its score of 18 in user reviews. Thanks to a strong showing in media presence, dapulse came in at third place with an overall score of 66. Notably, fourth place JIRA had perfect scores of 20 in both user reviews and integrations for an overall score of 63," says Suzie Blaszkiewicz, project manager for GetApp's Category Leader ranking.
Click through to see the entire Q4 2016 Category Leader ranking of the top 25 PPM solutions.
More about GetApp: GetApp is the leading premium business app discovery platform on the web. Headquartered in Barcelona (Spain), GetApp serves as a platform for user-generated and editorial reviews of software and apps for businesses.
###