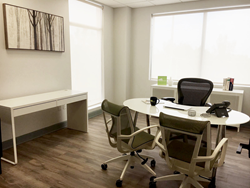 "We wanted to create the most comfortable and enjoyable place to work and network with all the tools, services and technology needed to be successful," says Fabian Vega, Co-Founder at Endeavour
Aventura, FL (PRWEB) November 01, 2016
When serial entrepreneurs Fabian Vega and Patricio Molina inaugurated their new venture Endeavour Co-Working Spaces in the September of 2016, their goal was to provide a modern, vibrant and fresh work place that would meet the current needs of today's up-and-coming professionals.
"We wanted to create the most comfortable and enjoyable place to work and network with all the tools, services and technology needed to be successful," says Fabian Vega, a graduate of Cambridge University and international Telecom and Media industry executive.
The Founder's team believe that a good work environment is essential to developing and fostering innovation and productivity and that is why their company has created an experience beyond the physical workspace. They have developed a community where its members can network, collaborate and build strong business connections with each other for their near future.
At Endeavour Co-Working Spaces, with offices in Aventura, work spaces are fully furnished and suitable for short and long term occupancy. Entrepreneurs who are starting up a business will find it exceptionally convenient to rent a modern, affordable, fully-serviced open or private space, avoiding the high rising costs and long term commitment of office rentals. Both Open and Private work spaces come fully furnished and include amenities such as reception, virtual office, mailing service, Wi-Fi, tea and coffee, conference rooms, printing in color and black and white, and complimentary valet parking for members and their guests.
Endeavour is part of the Merka Group of companies that has presence in over 45 countries in USA, Latin America, Africa and Europe in the Telecom, Media, Advertising, e-Commerce industries. For more information please visit http://www.myendeavour.net.