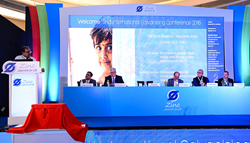 "IZA is working diligently to educate all key Indian stakeholders about the technical and economic benefits of zinc coatings. We have seen strong growth as a result of our efforts and we believe this strong growth will continue."
New Delhi, India (PRWEB) October 28, 2016
Indian Union Steel Minister, Shri Chaudhary Birender Singh, inaugurated the 2nd International Galvanizing Conference in New Delhi last week by telling the 240 delegates in attendance the important role zinc will play towards building and protecting India's infrastructure. He noted that although India lags behind other nations in per capita zinc consumption, corrosion costs the nation over Rs 1000 Crore (10 Billion Rupees) every year and this must be reduced by protecting steel with zinc coatings. On this occasion, Hon'ble Cabinet Minister also introduced the first zinc die casting alloy ingot produced by Hindustan Zinc which is named as HZDA.
India's Minister of State for Steel, Shri Vishnu Deo Sai, opened the technical session on the second day by suggesting that galvanized steel should be used in India's Smart Cities project, which was launched by Prime Minister Shri Narendra Modi last year. Shri Balvinder Kumar, Union Secretary (Mines), Government of India, assured industries during his presentation that mining surveys are being carried out by his department for mineral explorations in view of growing zinc demand.
The conference, which drew participants from a cross section of Steel and Zinc industries, discussed ways of growing the zinc market in India through increased use of zinc in automobiles, construction, and fertilizers, among other applications. Earlier, the CEO of Hindustan Zinc, Mr. Sunil Duggal, noted that by their assessment, corrosion losses in India equal approximately 4% of National GDP, which is a huge cost that can be prevented by using zinc coated steel in infrastructure. He also indicated that galvanized reinforcing steel has huge potential in India to help bridges and other infrastructure made of concrete last much longer.
C. Sengupta, Executive Director (M&C) RDSO, Ministry of Railways, noted that corrosion of steel is one of the most significant problems confronting Indian railways. Due to its performance and cost-effectiveness, galvanizing and thermal spraying are becoming important tools for the railway to combat corrosion.
Also on the topic of infrastructure, Dr. Ravindra Kumar, Principal Scientist, Transportation Planning Division CSIR-Central Road Research Institute, stated that India's road network is the second largest in the world and presents significant opportunities to increase the use of galvanizing for safety barriers, signage, fencing, drainage culverts, bridges, and concrete reinforcement.
IIT Bombay's Professor A.S. Khanna presented results of a recent corrosion study which showed that although galvanizing significantly improves corrosion resistance of vehicles as compared to non-galvanized cars of the same model year, the majority of cars produced for the Indian market are still not galvanized. Anuj Guglani from World Auto Forum told participants the key to bringing India to Western world standards of vehicle galvanizing is to develop new policies backed by strong consumer demand. By 2020, India is projected to be the fourth largest automotive producer in the world.
The construction sector is one of the most important steel-using industries, accounting for about 60% of galvanized steel production in India. Gurpreet Shah, Principal Architect of Creative Group, touched on the importance of future building technologies being low waste and low energy. Because galvanizing is a recyclable solution that reduces the energy demand of structures, Mr. Shah stated that the coating of iron or steel with zinc is probably the most environmentally friendly process available to prevent corrosion. He then went on to reinforce this statement by highlighting a significant number of new public and private buildings in India that made extensive use of galvanized steel and zinc cladding.
Piyush Kumar of ReNew Power briefed participants on the opportunities for zinc coatings in the renewable energy sector. According to Kumar, India's total installed solar capacity is currently 4.1 GW (gigawatts), but the government is seeking to achieve an additional 100 GW of solar capacity by 2022. This entails a $100 billion investment and, with the majority of these solar mounting structures made of galvanized steel, this represents a significant new market for zinc.
Tata Steel India's Vinay V. Mahashabde presented a favorable outlook on zinc-coated steel demand. Increased awareness of the benefits of galvanizing has resulted in a CAGR of 11% for the past decade and it is expected to continue its rise across segments and reach 8000 kT by 2017.
The biennial International Galvanizing Conference is organized by IZA India and is the largest conference promoting zinc usage and new zinc applications in India. The conference was attended by policy makers, Government officers, consultants, architects, and industry decision makers. Rahul Sharma, Director of IZA India, concluded that "IZA is working diligently to educate all key Indian stakeholders about the technical and economic benefits of zinc coatings. We have seen strong growth as a result of our efforts and we believe this strong growth will continue."
According to the International Lead Zinc Study Group (ILZSG), India is on track to achieve its market forecast of 720,000 tonnes of zinc consumption in 2016.
###
About IZA:
The International Zinc Association (IZA) was created in 1991 as a non-profit organization representing the zinc industry globally.  Aspiring toward a world where zinc is recognized as sustainable and essential for modern life IZA's primary goal is to help grow and protect the markets for zinc and to provide the industry a license to operate through programs in Environment and Sustainable Development, Technology and Market Development and Communications.  IZA supports the zinc and health programs of UNICEF through its 'Zinc Saves Kids' initiative.  Please visit http://www.zinc.org.in to learn more about the Zinc Industry's activities in India.