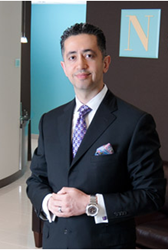 Herndon, VA (PRWEB) October 26, 2016
Dr. Shervin Naderi, Board Certified facial plastic surgeon and founding physician at the Naderi Center for Rhinoplasty and Cosmetic Surgery in Virginia and Maryland, who boasts extensive experience in Rhinoplasty & Facial Plastic Surgery, was recently featured in the Look Younger Edition of NewBeauty Magazine. This issue of the esteemed unique beauty publication showcased "The New Nose Job," and highlighted Dr. Naderi's vast knowledge of fixing unwanted bumps and humps along the bridge of the nose, asymmetries, crookedness and the intricacies concerning bruising under the eyes.
"The best way to get rid of unwanted bumps and humps along the bridge of the nose is by surgically shaving them down or cutting them out," Dr. Naderi was quoted as saying in NewBeauty's Look Younger Edition. "The tip may need to be refined, too, in an effort to create a nose that is soft and smooth; indeed, the nose needs to exhibit proper shadows along the side and subtle light must reflect off its tip and bridge in order to be aesthetically pleasing. When the humps and bumps are reduced, the contour is made softer and smoother."
In heading one of the most successful plastic surgery practices that emphasize rhinoplasty – aesthetic nasal surgery – Dr. Naderi has been granted a well-deserved reputation for creating "truly attractive noses" that are individualized for each patient's face. In so doing, he has placed a great deal of emphasis on the aspects of asymmetries and crookedness, understanding that if the nose is asymmetrical, it can evade the overall balance of the face. More importantly Dr. Naderi is known for his unbiased honesty telling his patients that perfect symmetry is almost impossible to achieve and maintain throughout healing. He emphasizes the goals are beauty and balance rather than perfection.
"Many patients focus on the asymmetry of their nose, but glaze over the fact that their ears, eyes, cheeks and lips may also be significantly asymmetric," he stated in the NewBeauty article. "There is no perfect symmetry when it comes to the face, but these issues become problematic when they are considered extreme or distracting."
According to the experts at the Naderi Center, rhinoplasty has been able to avoid much of the sensationalism that has surrounded other forms of plastic surgery, though when doctors on Instagram or social media use injectable fillers such as Restylane in place of a genuine surgical procedure, this isn't the case. When performed by a properly-trained facial plastic surgeon in the correct setting, say Naderi Center patient coordinators, a rhinoplasty procedure is relatively safe and also effective in yielding a nose that "enhances, improves and balances" the entire face.
The recovery procedure following rhinoplasty surgery is another area which Dr. Naderi focused on in the NewBeauty Magazine article, going on to explain what's involved with the splints that support the nose and the bandaging around it, and the normal swelling around the nose and eyes, which may also be bruised. As he himself explained it, "It's normal for the area around the eyes to be somewhat bruised and swollen, and though not every patient bruises, this effect is due to the breaking of the bones. Some foods and supplements can thin the blood and cause additional bleeding and bruising, but we discuss all options, factors and potential symptoms with all of our valued patients." Dr. Naderi does not routinely pack noses after a nose job which means his patients are often more comfortable than other patients that have had a nose job elsewhere.
Dr. Shervin Naderi, MD, FACS and double Board Certified facial plastic and reconstructive surgeon offers two office locations to serve patients within the Washington D.C. area, with one in the Barlow Building in Chevy Chase, Maryland and the other in the Herndon/Reston area in northern Virginia.
The Naderi Center is committed to the ideals of "expertise, ethics and exquisite patient care," with Dr. Shervin Naderi considering himself a physician above anything else. He and his staff do not submit to the "sales driven" model of practicing plastic surgery, instead focusing on educating patients about all of their available surgical options first and foremost – regardless if those options may be found in offices of other doctors. Dr. Kulak offers face lift, eyelid lift and expertise in facial rejuvenation surgery while Dr. Anderson is an expert in Breast and Body Plastic Surgery. The three surgeons comprise the most specialized cosmetic surgery practice in the entire Washington DC area.
The Naderi Center for Rhinoplasty and Cosmetic Surgery is headquartered at 5454 Wisconsin Avenue Suite 1655 in Chevy Chase and can be reached by calling (301) 222-2020. For more information visit http://www.NaderiCenter.com