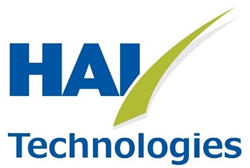 This relationship with Total represents HAI's strong commitment to our clients during a difficult period in the Oil & Gas market.
Houston, Texas (PRWEB) October 27, 2016
HAI Technologies, Inc. has been contracted by Total to develop and test a specialty subsea chemical injection pump. HAI Technologies (HAI) is a specifically developed business to tackle the challenges of developing a complete subsea chemical injection system, where this high quality and capable pump is an integral part. This testing is comprehensive and includes both hydrostatic tank testing and also long duration testing, to meet the high standards set by the E&P branch of Total. The pump manufacturer, Hammelmann, is an industry provider of high quality high pressure pumps with a long track record of delivering surface pumps for chemical injection. Their specific technology, developed for subsea in both various sizes and pressure ratings, along with variable displacement, makes them ideal for high reliability subsea application, but also for inclusion into new subsea chemical distribution systems, where both chemical storage, and chemical metering, is combined.
"This important testing will validate key technology that is a necessary and critical component in subsea chemical injection. This specific pump was selected for its track record on the surface, high quality and reliability, but also the willingness of the manufacturer, Hammelmann, to take on such a challenging program. They have developed a new version of their pump for subsea, with specific features, to ensure safety and reliability. Our work with them has created a standard where several versions of their pump can share standard components, and can be used for nearly all the chemicals utilized in well injection. We've created a standard that also takes into account the challenges of the future, both in capability (for example up to 20,000psi or 1360bar), but more importantly a way to reduce cost for the offshore development of the future." Says Dan Krohn, General Manager for HAI Technologies' Oil & Gas commercial business lines.
According to HAI Technologies Inc.'s President, Michael Smith, "This relationship with Total represents HAI's strong commitment to our clients during a difficult period in the Oil & Gas market. Our focus is to help our clients find ways to reduce cost while increasing safety, efficiency and velocity of returns from both existing and planned future assets through application of innovative and cutting edge technologies. We have the advantage of blending our years of experience in the oil and gas, scientific & environmental, and military markets to provide unique, yet proven, solutions. This particular program is a very important step in our strategic plan to cement HAI Technologies as a leader in this technology area."
HAI Technologies is an internationally recognized subsea technology company specializing in the design and manufacture of subsea products, chemical injection dispersant systems and specialized equipment for military, oil and gas, scientific, and other marine markets. HAI Technologies has been at the cutting edge of deep water technology, operations, and support for over 40 years. We look forward to providing subsea engineering solutions to our customers for years to come.
For more information on HAI Technologies products and services please contact our Houston or Rochester staff or visit our website of at http://www.hydroacousticsinc.com.
Disclaimer: The statements contained herein may include statements of future expectations, estimates, business plans and other forward-looking statements based on current views and assumptions and involve known and unknown risks and uncertainties that may cause actual future results to differ materially from those expressed or implied herein.