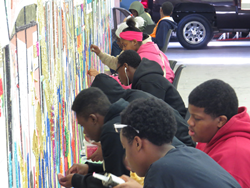 without a team, these Guinness World Records are not achievable
Gary, Indiana (PRWEB) October 28, 2016
On behalf of the Board of Governors of the Society of Innovators of Northwest Indiana, Dr. Cheryl Pruitt, Superintendent of the Gary Community School Corporation in partnership with Stephan Wanger, Founder and Executive Director of BEAD TOWN, has been selected by The Governors of The Society of Innovators for induction. The ceremony was held last Thursday, October 20, 2016 at the Lakeview ballroom of the Hammond Horseshoe Casino in Hammond, IN.
At BEAD TOWN: Gary, IN, located at 1800 E. 35th St., students and volunteers are currently working on the largest mosaic made out of recycled Mardi Gras beads and other found objects, to be unveiled May 1, 2017. This Guinness World Records attempt will replace BEAD TOWN's current World Record set in 2013. The artist and the student are also working on a 14 pieces exhibit sanctioned by the Gary Community School Corporation.
The mission of The Society of Innovators of Northwest Indiana is to cultivate creativity and innovation as its growth strategy by discovering, encouraging, celebrating and honoring its most innovative people across seven counties.
Dr. Cheryl Pruitt, Gary Superintendent, had the vision to invite BEAD TOWN founder Stephan Wanger (a Columbia College Chicago Alumni) to create a curriculum around the BEAD TOWN experience at the Gary Area Career Center. Since August 2015, over a thousand students (and many volunteers) became artisans and learned the basics of entrepreneurship and leadership while creating beautiful art recycling old beads, steel parts, and other found products.
"Student pieces were put on display, which engaged the community and benefited youth outside the traditional classroom," said nominator Brandon Griffin. Students experienced this renowned traveling exhibit that features nearly 100 mosaics, all made from recycled materials highlighting iconic images that promote a new way of learning.
"BEAD TOWN would like to thank the Gary Community School Corporation and the Legacy Foundation for their financial support and assistance," said Stephan Wanger, artist and founder of BEAD TOWN, and added that, "its a humbling experience working with so many talented students, organizations and volunteers."
"Bead Town: Gary, IN 'Home' Exhibit" is open Monday - Saturday 9-4pm. The exhibit ends on May 30, 2017.
The following members of the GCSC Bead Town Team are:
Dr. Cheryl Pruitt, Stephan Wanger, Antuwan Clemons, Rosie Washington, Doretha Rouse and Dr. Cordia Moore.
Please visit http://www.beadtown.org for more information.